Optimizon survey data reveals which marketplaces consumers trust, and why brands should take note
Consumers want to buy from trusted brands on trusted marketplaces.
In most cases, customers receive a superior buyer experience on marketplaces when buying from leading brands. This in turn increases trust in the marketplace. Amazon knows this, and has been actively encouraging big-brands onto the platform in recent years.
New data from Optimizon reveals which marketplaces consumers use and trust the most, and why they want to see more brands selling on their favourite buying platforms.
The convergence of brands and marketplaces
There is little doubt that online marketplaces continue to grow in popularity. Aside from the eye-watering growth experienced by the big-players such as Amazon and eBay during the last three years, we've also seen rise to a host of new marketplaces such as OnBuy and DIY.com. Other marketplaces such as Wayfair and Etsy also continue to experience huge growth.
Every sign indicates that online marketplaces will continue to grow their share of retail sales. Online marketplaces continue to be the future of retail.
As a result of this growth, Brands and marketplaces are converging like never before. Marketplaces have realised that great brand experience keeps customers happy. Brands have realised that marketplaces are where all the customers are.
This convergence has resulted in leading marketplaces offering brands the opportunity to deliver a seamless brand experience on their platform. In other words, your Amazon store can look identical to your own website. It seems that customers love this, and they want more.
Not only do marketplaces give brands the opportunity to control their own brand message (rather than relying on traditional third-party retailers to attempt to represent the brand effectively), they also realise that the marketplaces can drive significantly larger volumes of traffic to their listings. In addition, and significantly, many brands can cut out the middle-man altogether from the traditional 'wholesaler > retailer > customer' model.
Given the strengthening relationships between brands and marketplaces, Optimizon conducted some research to find out which marketplaces consumers trust the most, and what can improve the consumer experience.
Amazon the most trusted marketplace
Amazon is the most trusted online marketplace in the UK, according to research carried out by Optimizon.
When asked 'Which online marketplace do you trust the most?', 64% of respondents said that Amazon was the most trustworthy marketplace. 42% said eBay, which appeared as the second most trustworthy marketplace.
Etsy was third (23%), with Wayfair and Notonthehighstreet tied fourth (12%). Emerging marketplace OnBuy was also cited as being the most trustworthy by 5% of the respondents.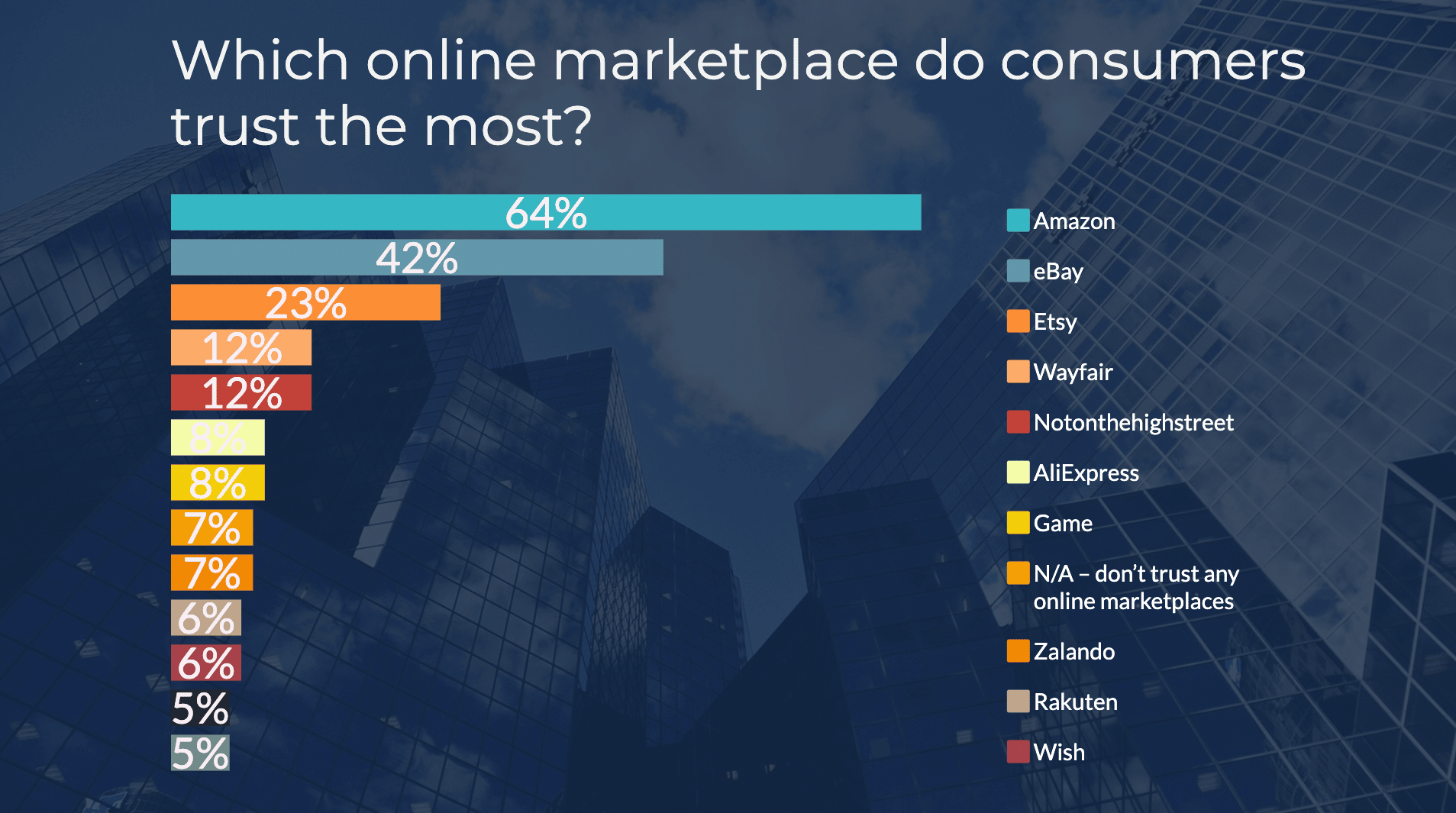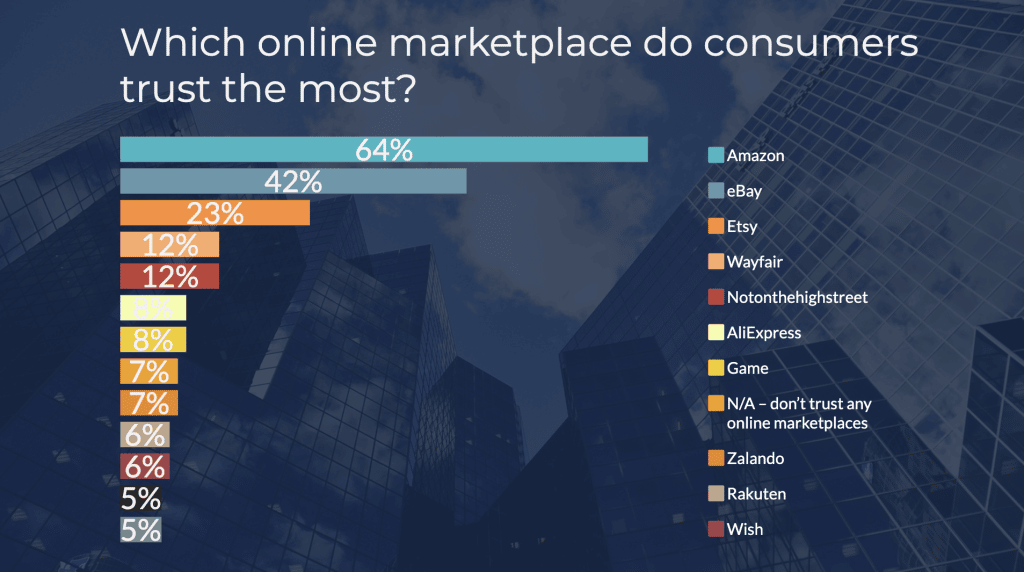 Most frequently used marketplaces
The figures were similar when we asked which marketplace consumers use the most. Almost 70% of respondents use Amazon. eBay came in second with 44% of respondents. Etsy was third, quite a distance behind, with 18% of respondents saying they used the marketplace most frequently. Relatively new marketplaces also show up in the responses, such as OnBuy, as well as more niche marketplaces such as Wayfair.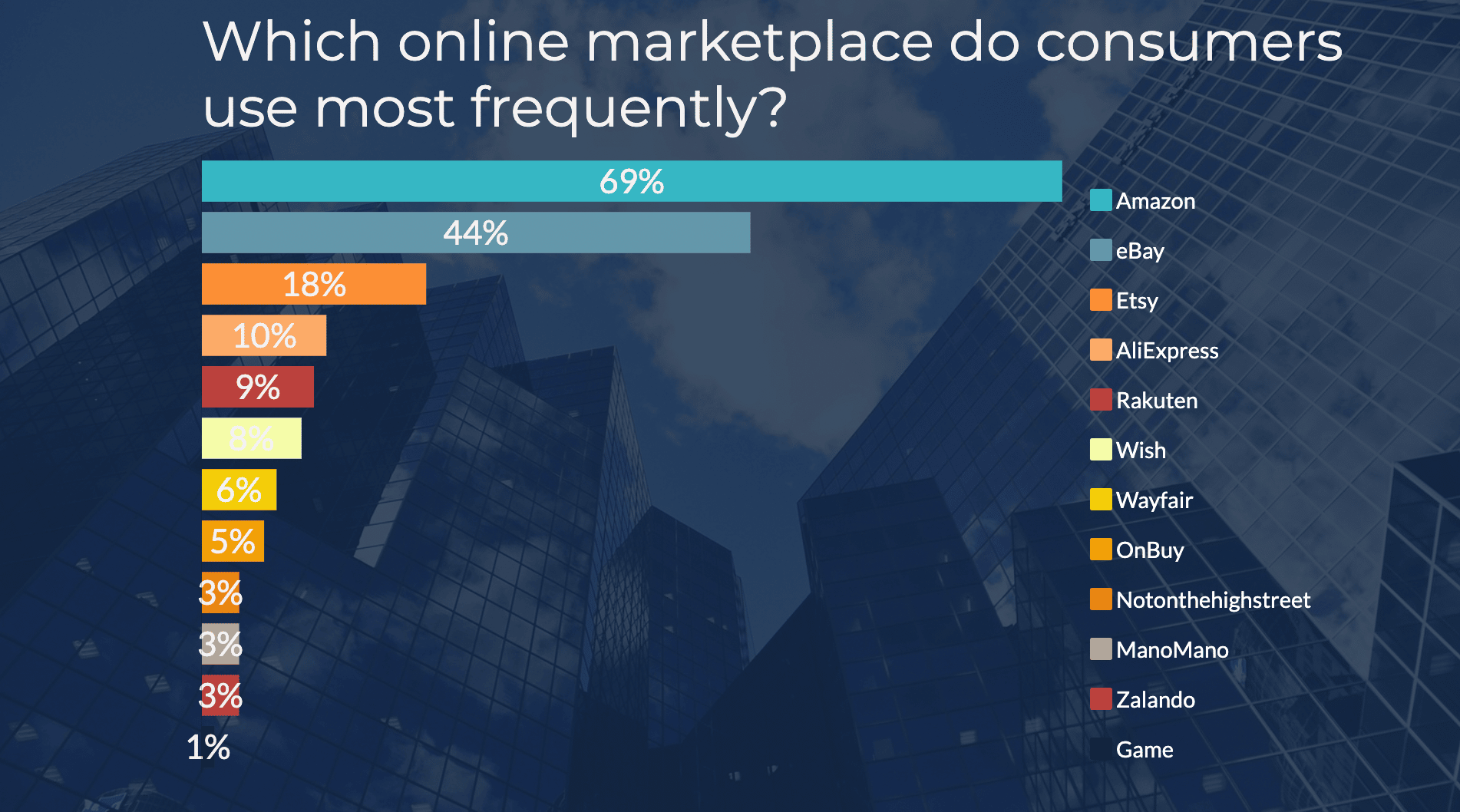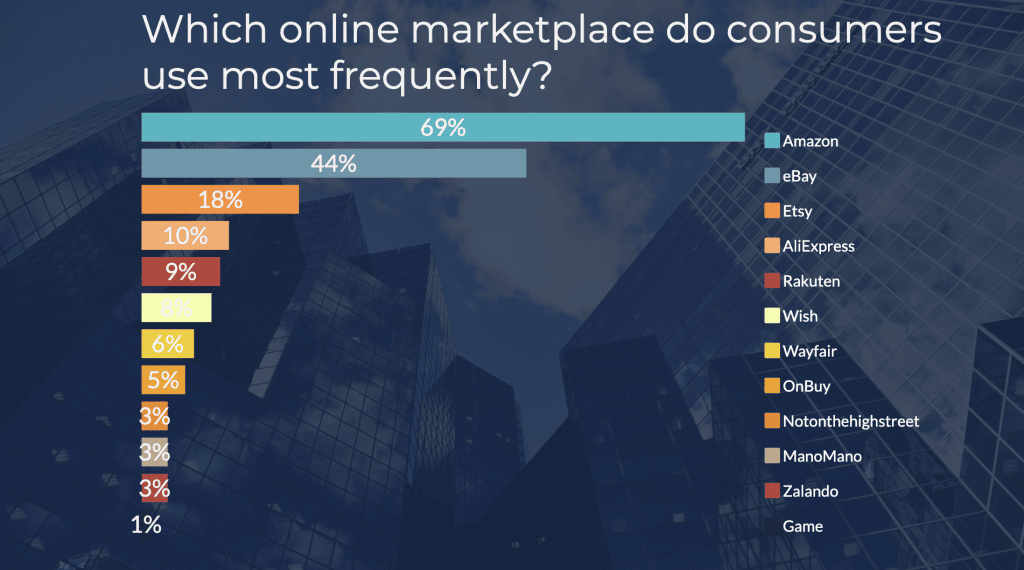 There is little doubt that Amazon remains the most popular and trusted marketplace in the UK, with eBay a clear second.
Customers want to buy from brands on marketplaces
After establishing which marketplaces were most popular, we asked online shoppers 'What would you like to improve on the online marketplaces you use?'
Whilst the most popular answer revolved around the ease of returning goods, which is a big issue for consumers when buying online, 21% said 'More official brands selling on marketplaces', 19% said 'Ability to buy direct from top/leading brands', and 33% answered 'More reliable sellers'.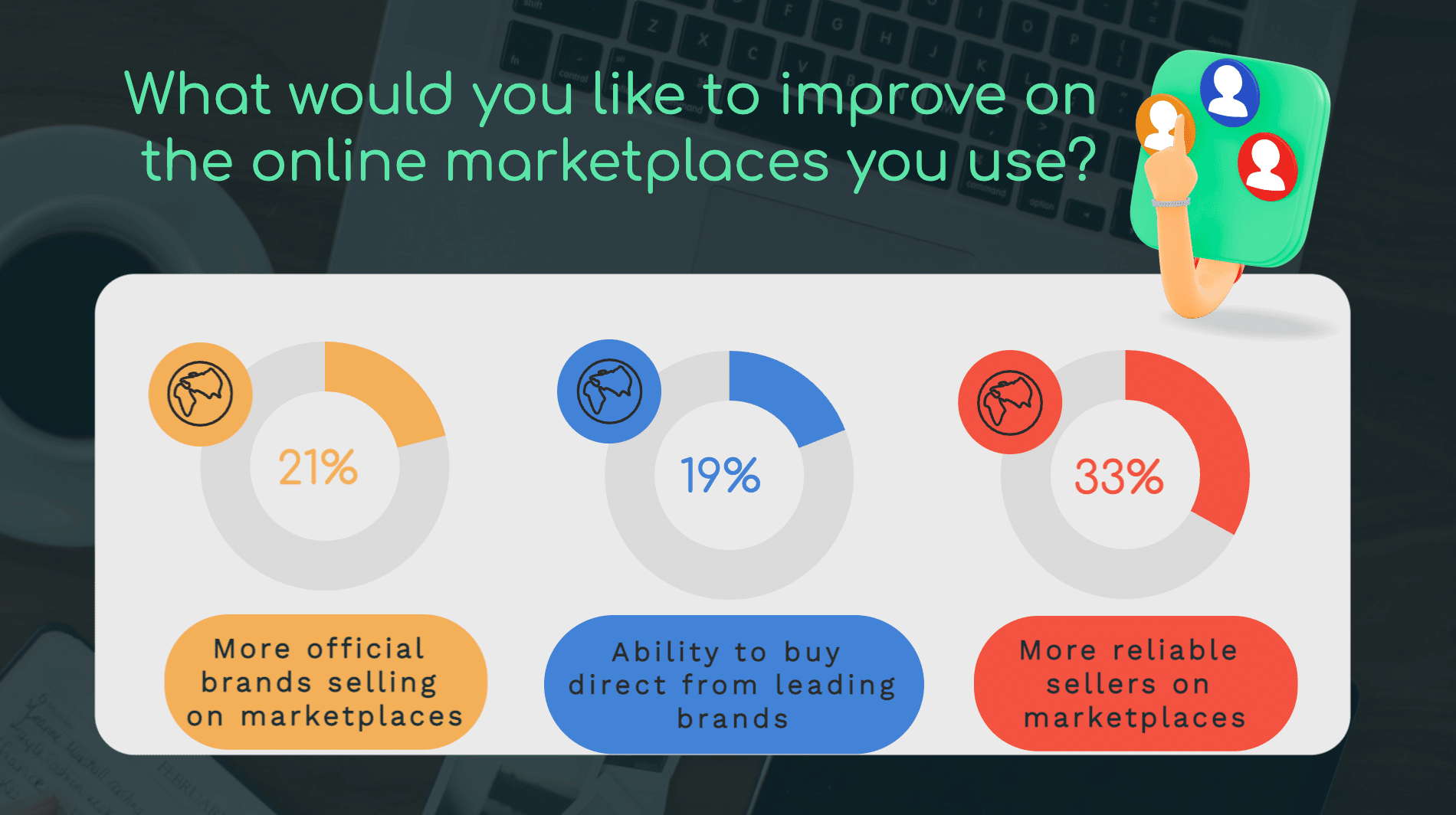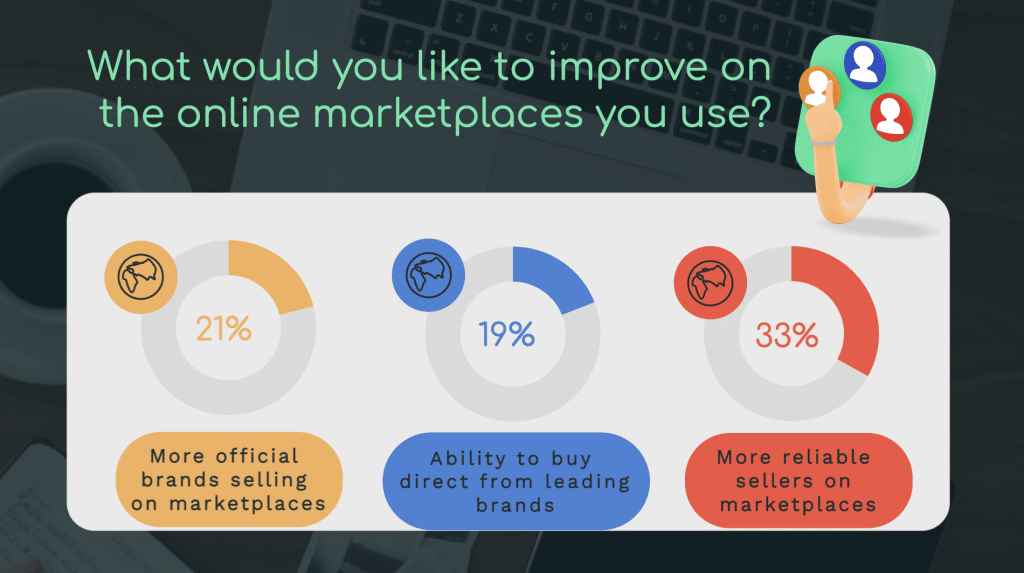 All of these answers point to the fact that customers want to buy directly from well-known or trustworthy brands on marketplaces.
Targeting brands for a reason
Of course the most trusted and popular marketplace, Amazon, knows this. It's exactly why the platform is bending over backwards to attract big brands to the marketplace. Within the last two years, Amazon has introduced numerous tools to help brands deliver a better customer experience on the platform.
Now has never been a better time to take control of your brand on marketplaces. Amazon is the obvious choice, given it is the most popular and trusted.
eBay is also making significant strides to catch Amazon in the UK (particularly with the launch of their fulfilment services). Other marketplaces should not be ignored – they can still deliver better results, or be more aligned to your brand.
What is certain is that shopping habits are changing as quickly as traditional retail models. Brands seeking to capitalise on both the traffic volumes and the consumer trust built through these marketplaces will be seeking to invest more in the platforms in 2023.
Amazon in particular has an almost obsessive focus on customer experience. Brands can now tap into that trust, whilst preserving their own brand experience.
For more information about how to control your brand in online marketplaces, take a look at the recent article on our knowledge base.
Investing more in Amazon
Since Amazon is by far the largest online marketplace on the planet, selling on the platform has become increasingly specialised. If you would like to deliver the best brand experience possible on Amazon, get in touch with our Specialist Amazon Consultants today. Optimizon is the leading Amazon agency, specialising in protection and turbocharging brand sales in online marketplaces.
Optimizon also has a dedicated eBay specialists, a Wayfair Management team, and OnBuy and DIY.com specialists.