Thousands of brands list their products on Amazon. However, most of those brands put the bulk of their ad spend into Google Pay-Per-Click (PPC) and Google Shopping ads, which point towards their own website.
There are a number of reasons for this. Sometimes it's a legacy issue; Amazon is often seen as an add-on to the business which can just be left to its own devices. The core focus of effort being the website.
Or it may be seen as diverting funds to sales that cost more to ship out of the door because of Amazon's fees.
However, you could be missing a trick as Amazon Ads could actually give you a better ROI (return on investment) than Google Ads.
According to the latest data Google Ads are becoming less effective. Their performance has recently begun to slow (for the first time ever). Meanwhile, the smart money is piling into Amazon Advertising which is showing a 40 per cent growth. Amazon has become the third-largest advertising platform in the world (just behind Google and Facebook).
Drawing upon the experience of Optimizon's specialist Amazon Ads team, we discuss why and how to use Amazon ads to boost sales.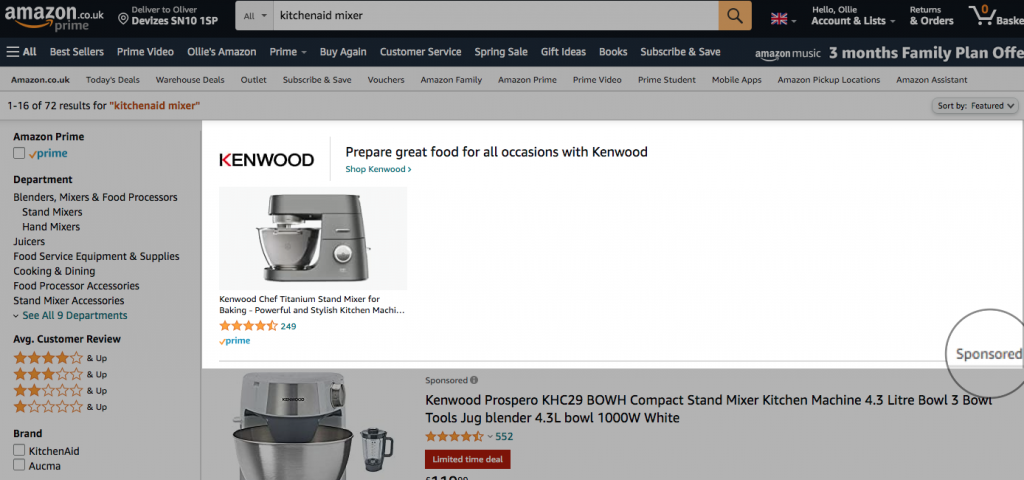 Why are Amazon Ads relatively under-the-radar compared to Google Ads?
The number one reason businesses opt for Google Ads instead of Amazon ads is the ability to drive traffic and sales directly to their own website or platform. This is both understandable and logical, since direct traffic brings with it a lot of wider benefits. On the face of it, it doesn't make sense to pay for driving traffic to a third-party site product listing (such as Amazon).
However, despite this apparent logic, there are a number of compelling reasons for paying to boost your Amazon listings through Amazon ads:
1) Amazon gives you access to far more customers than your own website
Amazon is the largest marketplace in the World. It has grown by over 50 per cent in the UK alone this year. Your own website simply can't compete with the amount of traffic coming into Amazon. Data suggests that most people start their research for a consumer purchase on Amazon.
For instance, last year there were 2.26bn visits to the main US version of Amazon.com. Almost 60 per cent of those visits were direct to Amazon. Furthermore, over 90 per cent of that traffic was organic.
The traffic volumes of shoppers heading straight for Amazon cannot be ignored. It makes sense to position your brand effectively to those shoppers.
2) Unlike Google, Amazon is used (almost) exclusively for shopping
Since Amazon is used almost exclusively for shopping, it makes sense to be more visible in the Amazon search results. In comparison, users browse Google for many different purposes – general searches, information, research, etc. This means that general Goolge PPC campaigns can sometimes attract irrelevant traffic, rather than your Amazon Ads, which are being shown to people ready to make a purchase.
To put it another way, most people visiting Amazon are just there for shopping. Using Amazon Ads means that you are only displaying your ads to motivated buyers. Whatsmore, Amazon ads have incredible targeting options to place your products in full view on this mammoth marketplace.
3) Amazon traffic may convert at a higher rate than traffic to your own website
Whilst it seems logical to direct paid traffic to your own website, Amazon traffic may actually convert at a higher rate than traffic to your own website. This is because Amazon's has such a powerful algorithm, focused on what people buy, based on billions of real-time transactions.
Whilst all search engines are continually becoming more sophisticated for shopping, there is an important difference between the data and algorithms used by Google and those of Amazon. Google considers your search history, intent, interests, demographics, similar audiences, etc. Whereas Amazon, as a shopping platform, is 100 per cent focussed on shopping and what customers are searching for and buying.
From our observations, this results in significantly higher CTRs on Amazon in comparison to Google Ads. This backs up our theory that Amazon ads have the potential for much higher relevancy.
Of course, every business is different. Each operating under different margins and trading conditions. However, from our observations, when all things are considered, Amazon ads can work out better value for money than Google Ads.
How much do Amazon Ads cost?
As with all forms of Pay-Per-Click marketing, there is an average cost of sale deriving from your cost per conversion. When selling on Amazon there are the Amazon fees to consider on top of the Amazon Ads spend. Although it's important to note that, unlike with Google Ads, there are no up-front costs. Amazon can deduct the cost of the ads from the sale price.
Understandably, it's impossible to discuss specific costs because every brand's cost per conversion will depend on various factors. These include the relevance of your ad, the quality of your listing, and the desirability of your product.
However, for any business weighing up the return on investment of using Amazon Ads, it's worth comparing the total overheads of your direct website sales. It is important to balance both the fixed and variable overheads of your website, together with the cost per sale of using Google Ads. With this in mind, directing traffic to your Amazon listings can prove particularly advantageous if your CTR and conversion rates prove higher. Furthermore, if your business is taking advantage of FBA (Fulfilment by Amazon), whereby Amazon packs and distributes your items at speed.
The different types of Amazon Ads and how you should use them
There are three types of Amazon Ads. If you are familiar with Google's search and display PPC ads, you'll see some similarities:
Amazon Sponsored Product Ads
Amazon Headline Search Ads
Product Display Ads
We'll briefly describe the different types of ads and how they could benefit your business below:
1) Amazon Sponsored Product Ads
Sponsored product ads are most similar to the Google Shopping Network ads. These are the ads that drive people searching on Amazon directly to a specific product you're advertising. When shoppers click on your sponsored product ad, they'll be directed to the ads' product page.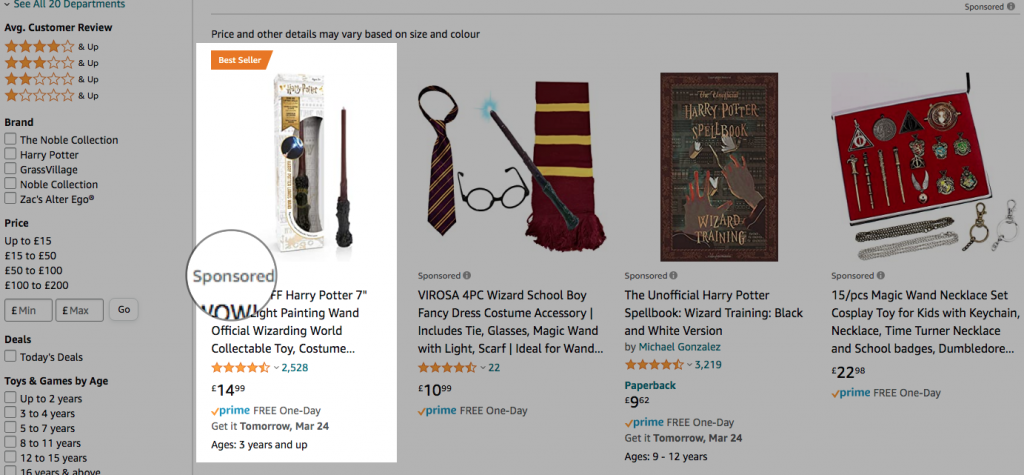 Importantly, sponsored product ads are displayed above or below the search results page (and on other product pages). Essentially they look almost identical to the product search results, but they are marked as 'Sponsored'.
In most forms of digital marketing, a 'Sponsored' label can be very off-putting to consumers. However, when it comes to Amazon, the Sponsored tag doesn't appear to make much difference. In some cases, we think it even enhances the appeal. Perhaps this is because a Sponsored label could imply that the product has been 'chosen' by Amazon. Or perhaps, consumers are not really discerning when it comes to whether a listing is sponsored or not. Ultimately, if the Ad is highly relevant, shoppers will click on it.
The most important factor is ensuring your Ad is relevant to the search. If your ad is relevant, we can say with certainty that consumers won't object to a Sponsored tag. Thus it is imperative to keep your keyword targeting tight and relevant.
Your business should use these ads to drive specific keyword searches to your chosen products. For example, if you are selling brown shoelaces, you'll target Amazon searches for 'brown shoelaces' to make sure your product appears at the top of the page.
2) Headline Search Ads
Headline search ads are displayed on the Amazon search results page, but as a headline banner ad. This means the ad appears above the result listing.
Headline Search Ads are cost-per-click. The ads lead searchers to any specified page on Amazon. Therefore you can send people to a branded page or an individual item.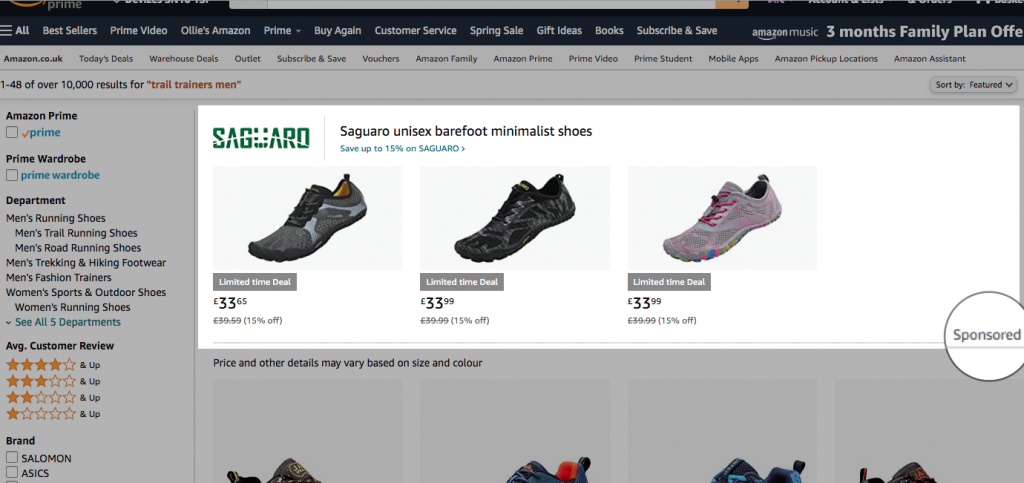 These ads are also keyword targeted, and can be used to promote three or more products together. Advertisers have the option of choosing from exact, phrase, or broad match keywords types.
This type of ad is perfect for brands wishing to highlight a full product range. Similarly, business wishing to direct shoppers to a brand page. As with the Sponsored Product Ads, your keywords should be precision targeted to increase your ROI.
For example, if you are selling various different colours of shoelaces, when someone searches for 'shoelaces' you could display a range of colours at the top of the page. This will assist the shopper to find what they are looking for.
3) Amazon Product Display Ads
Product display ads work a little differently to the other ad formats. These ads are not keyword targeted, but rather interest or product targeted display ads. These ads are a little more similar to Google's display ads, whereby your ad can follow consumers around based on their interests and previous search history.
This type of ad appears underneath the search results, or to the right, on review pages, or at the top of the offer listings page. They can even be displayed within Amazon marketing emails.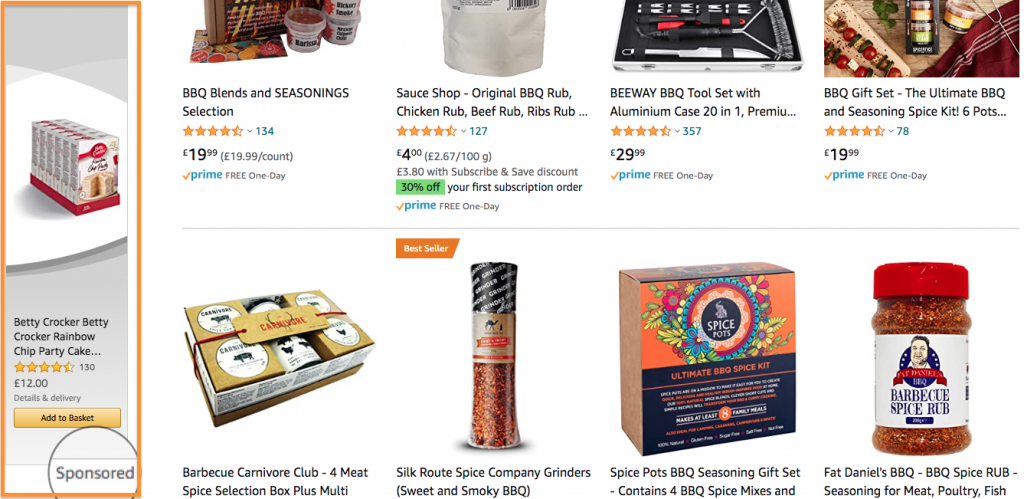 These ads drive shoppers to a products page, and are also priced by a cost-per-click method.
This type of ad is best for showing shoppers related products, for instance you can display your BBQ accessories to shoppers who are purchasing BBQs.
In a similar fashion to Google Display Ads, Amazon Product Display Ads can target consumer interests and search history. The main difference is that via Amazon, advertisers can select from a long list of products (e.g. similar products to what you're selling) or interests (e.g. if the shopper is interested in dogs) to target your ads to relevant consumers.
The beauty with targeted display advertising via Amazon is that you are marketing directly to consumers interested in your products. Your ads are not appearing in general web searches (i.e. if you are selling pet supplies, you can target people who buy 'dog' related items on Amazon, as opposed to people simply 'interested in dogs' on Google. It clearly makes a great deal of sense to target shoppers on the platform they are actually shopping on.
Amazon Ads
It's important to note that each campaign is limited to one target type. Therefore you can't combine target types for more focussed results. However, for certain types of interests and hobbies, there are few better ways of showing your products to consumers.
Use Amazon ads to boost your Amazon sales
In conclusion, the main advantage of using Amazon ads is that you're marketing directly to consumers who are purchasing on the very platform where your ads will appear. This alone is a major coup for those advertising on Amazon. It means there is less 'leakage' in the ad spend being used up from irrelevant searches.
In addition, the absolute numbers of people shopping directly on Amazon is eye-watering. It makes a great deal of sense to be as visible as possible on this platform.
If set up correctly, you could see an overall higher return on investment when using Amazon Ads over Google or Facebook Ads. Click through rates will almost certainly be higher and more relevant.
This doesn't necessarily mean that you should pull all of your ad spend away from Google and direct it into Amazon Ads. But, it may be wise to diversify your ad spend towards an emerging ad market.
Furthermore, if your business is using Amazon's FBA service, increasing your Amazon sales via Amazon ads could be the fastest way to achieve sales growth without the need to drastically increase the resources needed for rises in direct sales.
Ultimately it will all come down to the margins you make from selling your products on Amazon. Truth be told, you won't really know if Amazon Ads can be successful for your brands until you run a number of test campaigns.
Even more aggressive Amazon Ad strategies
However, if the experience of our partners is anything to go by, it's certainly worth considering. You could find it works so well you'll even start thinking about pointing your Google Ads towards your Amazon listings, rather than your own ecommerce site (this is a strategy that some businesses are using, which we will discuss in a separate blog).
If your business needs help or advice relating to selling on Amazon, get in touch with our team today.