With ever-growing competition on Amazon, simply listing products at the right price and expecting them to perform well is not enough to gain traction.
To achieve success with the world's largest online retailer, it's essential to have a comprehensive understanding of Amazon SEO and the vital role it plays in driving traffic to your listings. By leveraging Amazon's unique algorithm, you can significantly increase product visibility and brand awareness, boost conversion rates and grow sales.
Our blog is not a step-by-step guide, but rather an informative, thought-provoking piece to inspire confidence and help businesses take their Amazon strategy to the next level. With a deeper understanding of Amazon SEO and how it works, you will be able to make strategic decisions that will set your brand apart from the competition.
With our in-depth knowledge of Amazon SEO, your business can stay one step ahead.
Contact us at [email protected] to arrange a call with one of our experts.
Understanding the Amazon SEO Algorithm
Amazon SEO is the process of optimizing listings to rank higher in Amazon search results. The simplest way to understand Amazon SEO is to think of it as a flywheel, where each aspect of optimization feeds into the next, creating a virtuous cycle of ever-increasing visibility and sales.
Like other reputable search engines, Amazon SEO has its own algorithm called A9. While Google is known to use more than 200 search engine ranking factors to order content, Amazon SEO relies on the fundamental principles of relevance and performance.
These two factors ensure Amazon customers can find the products they're looking for, and that those products meet their expectations. By way of reward, Amazon SEO prioritises listings that perform well, elevating them to the top of the Amazon search page.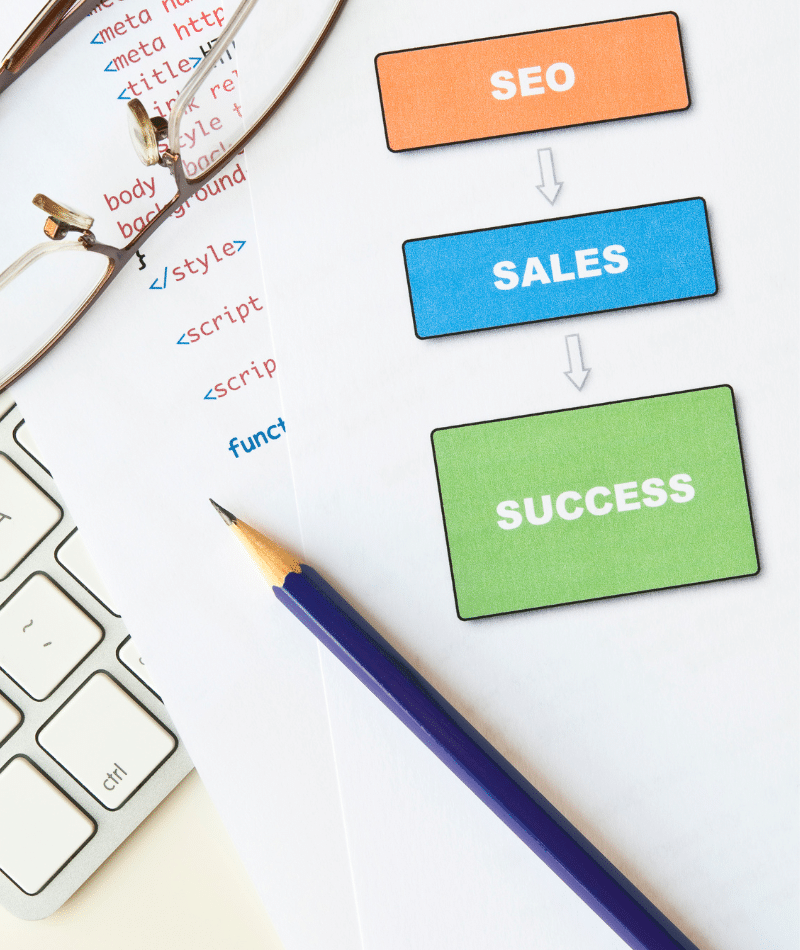 Optimizing Listings for Relevance
When it comes to Amazon SEO, relevance is crucial in aligning a product listing with a customer's search query. The more relevant the listing, the better the match and the will rank higher in Amazon search results.
Relevant keywords, used frequently, but not excessively throughout product listings can help improve visibility in Amazon's search engine ranking. Businesses will also appeal to their target audience as the right keywords attract the right customer.
In-depth keyword research can make or break an otherwise prudent Amazon SEO strategy. Third-party keyword data tools such as Jungle Scout or Helium 10 can build a list of applicable SEO words and phrases. Those businesses with a deep understanding of their customer's search terms, create the most relevant and effective content.
Of course, high volume SEO keywords tend to have high competition, so it's important to be specific and use terms that differentiate a product from its competitors. This is especially true for businesses that operate in a crowded market.
Amazon's own search bar is an overlooked tool in the quest for SEO keywords. When a product name is entered into Amazon search, the algorithm generates suggestions for other words and phrases that shoppers use to find related items. By analysing these suggestions, businesses can identify relevant keywords that will increase organic traffic.
SEO Keyword Best Practice
The goal of any successful Amazon SEO campaign is to strike the right balance between natural-sounding terms that can be weaved into product listing copy, and those that are better placed in the back-end.
Keywords in product titles hold the most weight.  Amazon's algorithm puts more significance on them, than those in bullet copy or product descriptions. Optimizing product titles efficiently not only boosts Amazon search ranking, it has a positive impact on click-through, increasing conversion rates and sales revenue as a result.
Listings that include three to five of the most relevant Amazon SEO keywords in an organic and meaningful way yield the best results. Effective titles are concise, easy to read, and contain minimal technical jargon that negatively affect click-through rates.
Our skilled copywriters are adept at weaving relevant SEO keywords into bullet points, whilst keeping the meaning clear and the language fluent. Another Optimizon trick is to use a friendly tone of voice as if chatting to a colleague, as this also helps disguise keywords without diluting copy.
The importance of bullet points that are easily scannable cannot be overstated. At Optimizon, we begin each bullet with a captivating headline, written in all caps, to ensure key messages are immediately noticeable, even at a glance. We're not shy in selling the benefits of a product either. Brands regularly turn to us for help communicating key features in a way that connects with their target audience.
Reach out to our expert team for more help creating Amazon SEO content designed to raise brand awareness and boost conversion.
The Power of Hidden Keywords
When it comes to relevant SEO keywords, no syllable should go to waste. Misspellings, synonyms and niche terms that are difficult to write into product listings, without breaking the copy, can be hidden from view in the back-end.
These hidden keywords play a vital role in helping to increase visibility in Amazon search results. Amazon limits the number of characters in the back-end keywords field, so it's important brands use them wisely and only include the most relevant terms.
Here are a few helpful tips from the Amazon SEO experts at Optimizon:
Use all 250 bytes Amazon SEO allows by including as many relevant keywords as possible (in most cases, a byte equals a character).
Use lowercase letters as back-end search terms are not case sensitive.
Punctuation and readability are of no concern in the back-end.
Don't use branded or copyrighted terms to avoid Amazon suppressing the listing.
Avoid using stop words like of, the, an, and as they will be ignored by Amazon's algorithm.
Amazon SEO Indexing Explained
When a product indexes for a specific SEO keyword, it will show up when customers use that term in the Amazon search bar. For example, if a brand indexes for face cream, their product will appear when a customer types in face cream.
Keyword indexing is by no means a one-off process. Successful businesses on Amazon regularly check and update their SEO keywords so they continue to generate traffic and drive sales. Use a tool such as Helium 10 Amazon Keyword Tracker to monitor keyword performance, and update terms every 60-90 days for optimal visibility.
Of course, indexing is no guarantee a product will rank favourably. To improve where a listing appears in Amazon search results, it's imperative that brands optimize every aspect of their product page.
If you'd like to talk to one of our Amazon SEO experts about your keyword strategy, or for help with Amazon SEO indexing, please get in touch at [email protected]
Optimizing Listings for Performance
Amazon's algorithm rewards listings that are keyword relevant and favours products that perform well. If a product listing is having a positive impact on sales, it will rank higher in Amazon search results, increasing visibility and driving conversion.
Of course, performance ranking factors can be a little tricky to manage as they include ratings and reviews that are beyond the direct control of any brand. That said, there are many things that businesses can do to improve sales.
Price – it's all relative
The price at which a product is set has a direct impact on conversion rate and can result in poor visibility. Why? Because Amazon uses both price and conversion rate to determine performance, with lower price products usually appearing higher in search results.
When determining the right price point, it's important to think about how it stacks up against similar products selling on Amazon. If a brand launches a product at a highly competitive price, it's likely to generate healthy sales and boost conversion. If the price is set too high, especially when compared with others in the same category, Amazon's algorithm will presume the item won't sell as well, resulting in poor visibility and ranking.
Successful selling on Amazon involves keeping an eye on the competition. Set price points that attract shoppers, consider free shipping to boost conversion, or try running split tests to see how different prices impact sales. Whatever your strategy, be careful not to price your brand out of Amazon's lucrative market.  
Over look Customer Reviews at your Peril
Whether negative, positive, or somewhere in between, consumer feedback directly affects Amazon SEO ranking. Plenty of positive reviews that result in better click-through and conversion rates are rewarded with higher placement in Amazon search results.
Of course, building up favourable commentary can take time. It's important to respond to negative feedback and react quickly when product issues arise. Doing so improves the overall customer experience and helps build trust.
It also pays to be proactive. Those brands that send customers follow-up emails asking them to leave a review are more likely to achieve positive feedback. Sometimes these valuable customer insights can spark exciting new ideas, or prompt lucrative product development.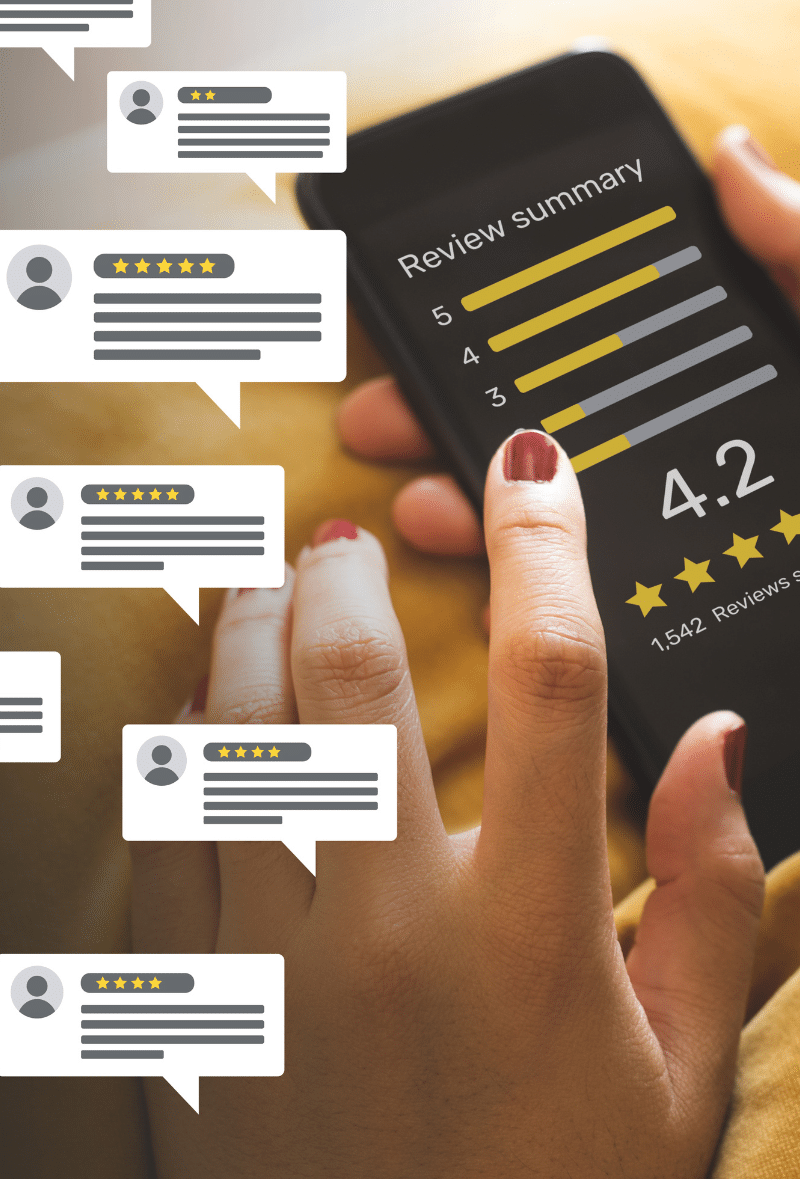 A Picture is Worth a Thousand Words
When it comes to Amazon, seeing is believing. Clear and detailed images can increase conversion rate, boost product ranking and improve the overall shopping experience.
At Optimizon, we use high-quality lifestyle and product close-up photography to enhance brand awareness and ensure creative control. Our talented team design branded infographics that visually communicate key messages and make listings more attractive to shoppers.
Amazon's zoom function is another way customers can take a closer look. To facilitate this and increase the likelihood of a sale, Amazon recommends using images that are at least 1000 pixels in either height or width.
Email us at [email protected]  to speak with brand specialists who create excellent Amazon content that reflects your brand and boosts your conversion rate
Amazon SEO: Play the Long Game
Amazon success hinges on well-optimized, retail-ready listings that deliver an exceptional customer experience – the core of Amazon's business model. By way of reward for keeping its customers happy, Amazon's algorithm pushes listings up in its SERP (search engine results pages).
Put simply, the more a brand puts into Amazon SEO, the more they will get out. By understanding Amazon's A9 algorithm and optimizing listings with 'relevance' and 'performance' in mind, search rankings will improve.
As visibility increases, conversion rate and sales will follow, leading to more positive reviews and better Amazon search ranking. This is how brands get the Amazon SEO flywheel moving in the right direction. The amount of time and resource invested into the process will determine if it continues to spin.
How can we help?
Optimizon is a leading Marketplaces and Amazon Consultancy. We are not just an Amazon Agency. We have specialists working in every major ecommerce platform, including Wayfair marketplace as well as eBay, OnBuy and B&Q.
Contact the team at Optimizon today to get the Amazon SEO flywheel spinning and maintaining its momentum.