How to sell on Amazon Business to expand your B2B sales
Get ahead of the curve and find out how to sell on Amazon Business, Amazon's fastest growing B2B selling platform.
It's over 25 years since Amazon started selling online and since humble beginnings, in Jeff Bezos's garage, the brand has gone on to dominate the e-commerce market. Today, Amazon Marketplace offers selling platforms for both B2C (Business to Consumer Sales) and B2B (Business to Business).
Amazon invest heavily into B2B platform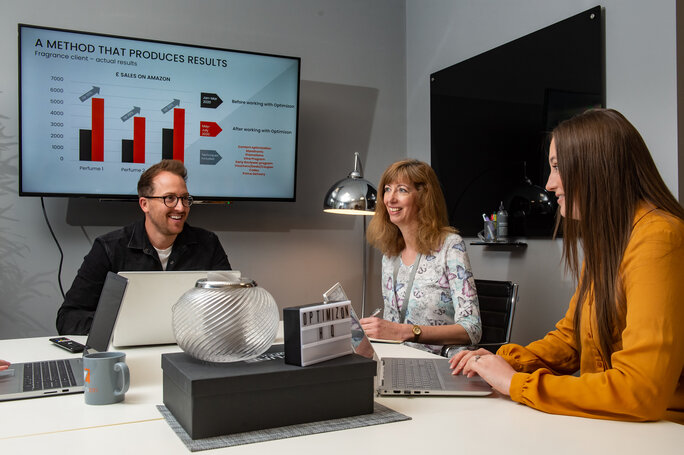 Amazon Business offers the same smooth service as its consumer arm. It's part of the trusted and expanding Amazon brand. The results speak for themselves, in 2019 Amazon Business grew 1.6 times faster that Amazon – attracting sole traders to SMBs (Small to Medium-sized Business) and large corporations.
Amazon is investing heavily into support for Amazon Business in Europe, so there couldn't be a better time to get onto the platform.
Whether you're a sole trader or a bigger operation, selling on Amazon Business couldn't be easier. You just need to register an account to enjoy the scaled-up business-friendly features of Amazon. This will give you access to a vast platform for selling in bulk to other businesses all over Europe.
How to sell on Amazon Business in six steps
Here's how you can join this global brand to boost your B2B e-commerce sales and benefit from a new suite of specialised features to reach other business customers.
1. REGISTER AS A SELLING PARTNER
First, you need to choose your selling plan. With the individual plan you pay 75p for every item that you sell. The Professional plan costs £25 per month – no matter how many items you sell.
On both plans, Amazon collects a referral fee on each sale. This fee is a percentage of the total transaction and varies by product category. You can see a breakdown of Amazon selling fees here.
2. YOUR BUSINESS DETAILS
Don't forget you will need to create your business profile to register as a seller on Amazon business. So, that means having in place:
An Amazon customer account, or a business email address
A phone number
A chargeable credit card
A bank account where Amazon can send the proceeds from your sales.
Company registration details (with VAT number if applicable)
A valid passport or national ID (this protects both sellers and customers)
3. UPLOADING YOUR LISTINGS
Some categories of sales are open to all sellers, other products require a Professional selle account whilst some need required approval. Before you start listing your goods, do check your product classifications including rules about new and refurbished items.
It's also good to know that you can add products to the Amazon Marketplace catalog in large batches using bulk tools, or one at a time.
To be as competitive as possible, it is essential that you fully optimise your listings and control your brand. See our Knowledge Base to find tips, tricks and advice about Controlling Your Brand on Amazon, and Optimising Amazon Listings.
4. GO MOBILE
Use the Amazon Seller app to keep track of your sales, fulfil orders and find new products to sell. The app also allows you to respond to customer queries and capture and edit professional quality photos – all from your mobile. Download the app here.
5. PICK, PACK & SHIP
It's your choice whether you handle processing and fulfil orders. But you can let Amazon take the stress out of picking, packing and shipping your sales with FBA (Fulfilment by Amazon), which also removes the need for you to store goods. That's right, with FBA your products are stored in one of Amazon's warehouses – meaning you never even have to touch your goods.
If you do sign up to FBA, Amazon will notify you when customers place an order, and sales revenues (minus fees) are deposited into your bank account at regular intervals. With FBA, Amazon will also handle all of your returns and refunds – saving you even more time.
6. AUTOMATE YOUR VAT INVOICING
Provide your tax information and use the free VAT Calculation Service. This service automatically generates VAT invoices on your behalf and displays VAT-exclusive prices to business customers, again helping to boost your B2B sales.
Once you're up and running on Amazon Business, you can monitor your B2B performance using B2B Central. This special feature allows you to tailor offers to your business customers with quantity discounts, business prices and in-demand products. All helping to expand your customer base even further.
Additionally, as an Amazon Business seller you will enjoy multiple benefits including pricing, shipping options, tax, invoicing and credit control features as well as reaching millions of B2B customers across the globe.
More information about how to sell on Amazon Business
If you would like more information about how to sell on Amazon Business, you can reach out to our team on our Contact Us Page. You can also check out our article What is Amazon Business & How Can it Help Your Business Sell B2B?