Since it exploded in popularity, TiKTok has inspired other social media platforms, including YouTube and Instagram, to adopt some of its features – and now the e-commerce giant Amazon has launched a new app in the US that seamlessly promotes products and taps into the social commerce goldmine.
Inspire is Amazon's latest feature and it aims to solve their biggest pain point. Whilst the shopping platform is extremely successful and profitable, it mainly works because customers are at the bottom of the funnel and know exactly what they're after. It doesn't work so well for consumers who can't pinpoint what they're looking for. Inspire's objective is to replicate the act of browsing a shop at your own leisure and finding something you didn't know you wanted, needed or that even existed.
HOW DOES AMAZON INSPIRE WORK?
Capitalising on TikTok's mammoth success, Amazon's latest feature allows consumers to browse products in an engaging and interactive way by scrolling through an endless stream of short videos and Instagram-style photos that promote various products from a wide range of categories and brands.
When a customer has found a product they like they can easily add it to their cart and check out directly from Inspire, making it a seamless and convenient shopping experience. This feature is particularly useful for users who are inspired to make a purchase after watching a video or seeing a product that they like as it allows them to buy it without even having to leave the platform, unlike Instagram and TikTok that take customers to a third-party site to finish the process
The short-form videos and clips are often creative and entertaining and they provide a visual representation of the products being featured, how they look being used and examples of them in action which can be especially helpful for users who are trying to make informed purchasing decisions.
WHO MAKES CONTENT FOR AMAZON INSPIRE?
Brands, influencers and even Amazon shoppers themselves. The company has already lined up lifestyle influencer Practically Pursia and other creators to post on Inspire. When you start up Inspire you're asked about your hobbies and interests and can select from a wide range of suggestions such as makeup, skin care, pets, gaming, plants, hiking, interior design, travel and running – and the app then learns from your choices and creates a unique feed that's tailor-made especially for you.
Inspire allows content creators who are enrolled in the Amazon Influencer Program and brands to earn commission on the sales of their collections, providing a new revenue stream for these partners. Overall, Inspire has the potential to significantly boost global social commerce sales and increase profits for everyone involved.
Targeting consumers who already spend time on social media apps like Instagram and TikTok, Inspire lets users follow their favourite creators, brands, and influencers for a social media experience that keeps them up to date on the latest products and trends. Users can also interact with other customers and creators by commenting on and sharing videos, which helps to create a sense of community on the platform.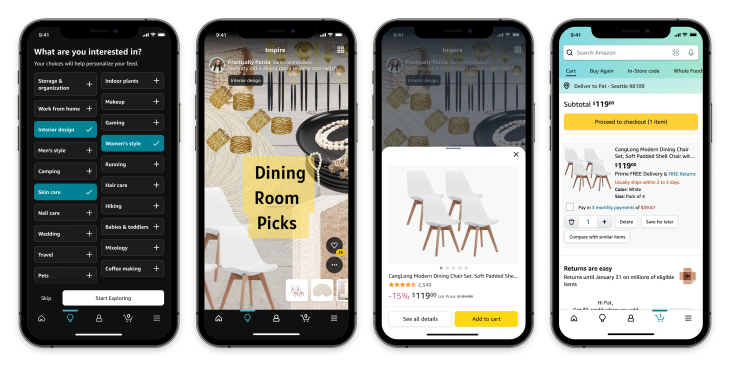 HOW DOES AMAZON INSPIRE HELP YOUR BUSINESS?
There are many benefits to using Inspire for both businesses and consumers. For businesses, Inspire provides a new and innovative way to reach a wider audience as they can showcase products with engaging and interactive videos, which can be especially helpful for brands that sell products that are difficult to describe or demonstrate through traditional advertising methods.
For consumers, Inspire is an immersive experience that offers a fun and convenient way to discover new products and shop online. It provides customers with a wealth of information about new products and trends, and allows them to easily purchase items that they are interested in. It also allows users to connect with other users and influencers, which can be a great way to get recommendations and advice about products that they are considering purchasing.
Overall, Amazon's TiKTok inspired feature is a great new addition to the company's e-commerce offerings, and it is sure to be a hit with users who enjoy discovering new products and trends. It's a perfect blend of entertainment and shopping and is sure to inspire users to try new things and add some excitement to their shopping experience.
CAN YOUR BRAND START USING AMAZON INSPIRE NOW
Amazon started rolling out Inspire to select customers at the tail end of 2022 and it's currently only available in the United States which means users outside of the US are unable to access the platform and take advantage of its benefits just now. Over the coming months it plans to make Inspire available to all US-based customers.
If you would like to speak to our specialist Amazon agency for further guidance, contact our team today. Discover how we can help you take your business overseas and enhance your brand and sales.
Our experienced experts have helped numerous businesses grow their brands, both at home and abroad. If you would like to speak to our specialist global Amazon agency, contact our team today. Discover how we can help you expand your brand globally and optimise your global strategy.