Major brands are increasingly leveraging Amazon by taking ownership of their brand and selling directly to customers on the world's largest online marketplace.
Big brands selling successfully on Amazon know that the platform has become highly specialised. Fully optimising an Amazon account not only means paying attention to every aspect of Amazon. It also requires the monitoring of performance in each area. This includes the ability to monitor brand health.
To begin with, a major route to selling successfully on Amazon and achieving strong brand health is ranking high in its search results. But to reach a high ranking, you need to stay on top of Amazon's algorithms and have the knowledge of how to work with them – especially Amazon's new A10 algorithm.
The A10, which replaced the A9, is a propriety algorithm that determines what products rise to the top of the search results.
Keeping abreast of how Amazon's search algorithms work is just one part of the specialist knowledge required for performance. Optimizon Account Manager, Dean Hawes, discusses how the A10 algorithm operates, what it means for your listings and brands, and how to monitor brand health on Amazon.
How does A10 operate?
Firstly, it's important to know that the A10 tracks three broad metrics to help brands be successful and meet customers' expectations. These 3 broad metrics are: –
Price Competitiveness
Prime Eligibility
In-stock Rate
Amazon Brand Health Broad Metric 1: Price Competitiveness
Amazon's priority is not the profitability of the seller, it's the best online price. This means that if your price is higher than other sellers, Amazon will remove your listing until you match or beat the lowest offer.
To avoid Price Health alerts, it's a good idea to enrol in pricing automation. You have 2 options to do so: –
Sold by Amazon: A new option for sellers, which is by invite only, where Amazon sets the prices of FBA products.
Automate Price: Signing up for this service means Amazon automatically adjusts the prices of ASINs based on other offers and pre-defined rules.
However, it can be a good idea to consider additional ways to maintain profitability and competitive pricing. With this in mind, consider MAP (Minimum Advertised Price) and Product Configurations.
MAP: Brands should set a Minimum Advertised Price with all traders who sell their products online. Price consistency and control across all retailers are essential to maintain strong brand health.
Product Configurations: Goods with Product Configurations specific to Amazon with unique GTINs (Global Trade Item Numbers) simplify any price comparisons for bundled goods.
Remember, Amazon is becoming more sophisticated at detecting your products across other platforms, even if they are being sold using different ASINs and descriptions. Any whiff of undercutting Amazon prices, and your listings will suffer.
Amazon Brand Health Broad Metric 2: Prime Eligibility
Prime Eligibility is the frequency of a product being eligible for Prime in the previous 30 days. Any product that is out of stock for any length of time is not Prime eligible.
Products are only eligible for Prime if:
shipping is carried out by Amazon-approved carriers;
products are shipped promptly 99 per cent of the time;
they have a cancellation rate lower than 0.5 per cent.
Amazon Brand Health Broad Metric 3: In-stock Rate
It might not be on your radar, but out-of-stock goods impact Amazon's traffic and sales. The In-Stock Rate is the percentage of page views to replenishable branded items in the last 30 days.
Related to the In-Stock Rake is the Inventory Performance Index for FBA sellers. The platform now limits inventory replenishment for FBA goods. To maintain sales, you need to ship any new FBA stock to Amazon promptly to maintain FBA rates.
Finding the 3 Broad Metrics on the Brand Dashboard
Now you have the basics of the 3 Broad Metrics, let's find them on your Amazon Brand Dashboard. Go to Seller Central; this is where Amazon displays the primary metrics of Price Competitiveness, In-Stock Rate and Prime Eligibility under the heading of BRAND HEALTH.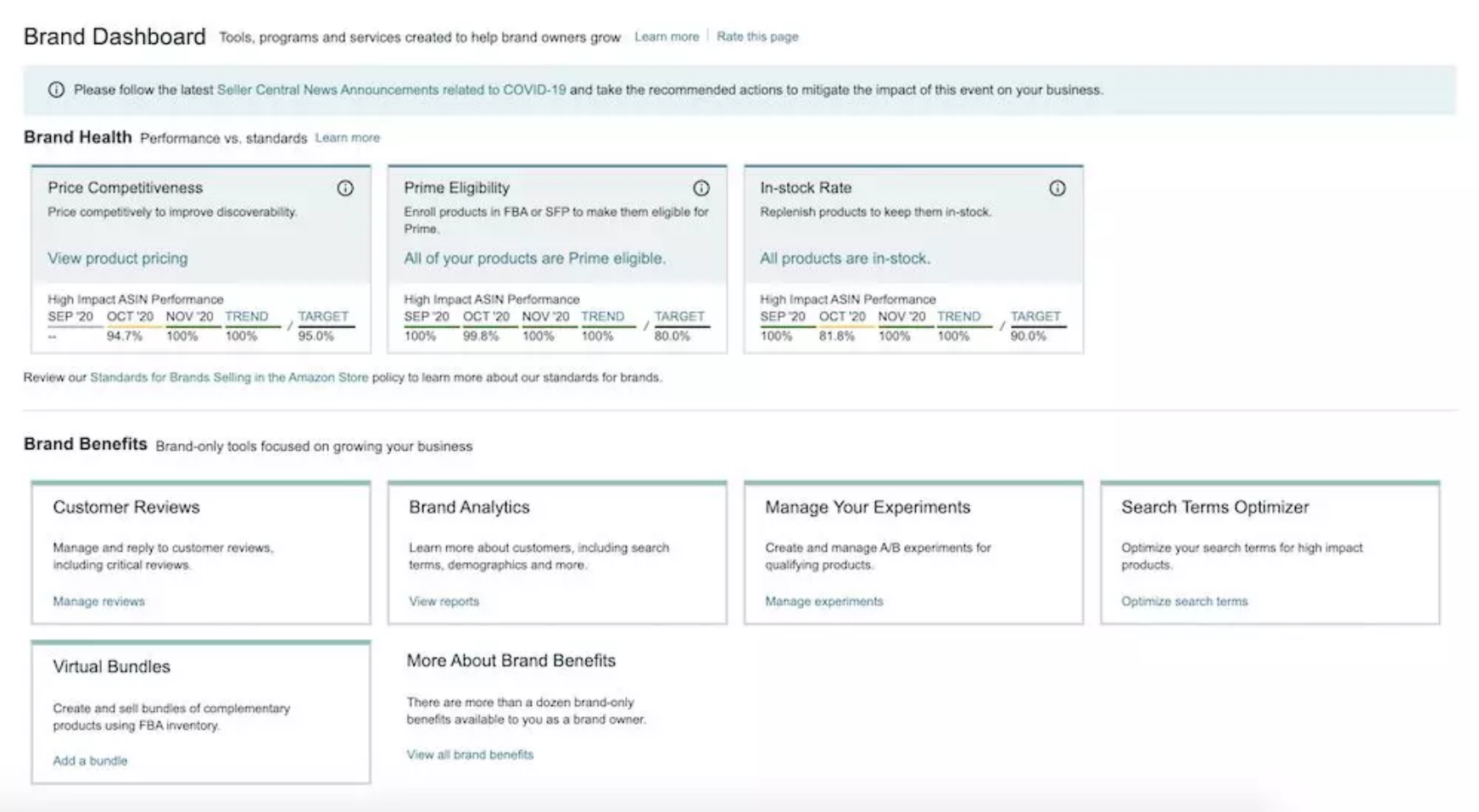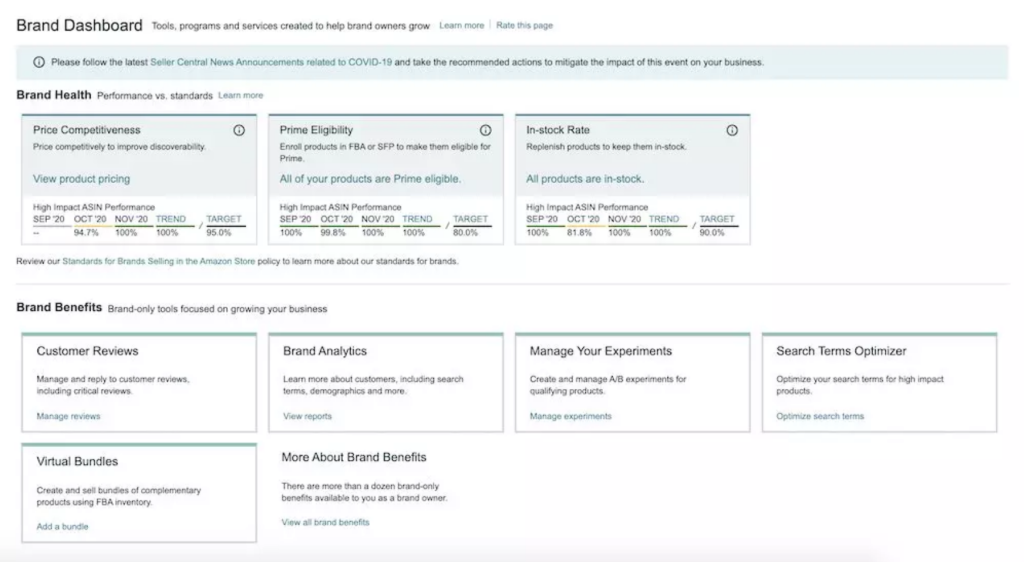 You will also notice that there are listings for BRAND BENEFITS such as Customer Reviews and Brand Analytics. You can find out more information about navigating this dashboard here
Account Health & The Voice of the Customer
Beyond the three Broad Metrics of Prime Eligibility, and so on, you should consider Account Health and the Voice of the Customer. These are also important for maintaining brand health on Amazon.
As we know, Amazon is completely focused on the consumer. If your Amazon setup, including your page experience and delivery, isn't up to scratch, negative feedback will begin to impact your visibility.
Account Health
To find the Account Health page, again go to the Brand Dashboard. Click the Performance tab of the main Seller Central navigation. Here, you can view the metrics linked to customer service, policy compliance and shipping performance – if applicable. These all determine Account Health.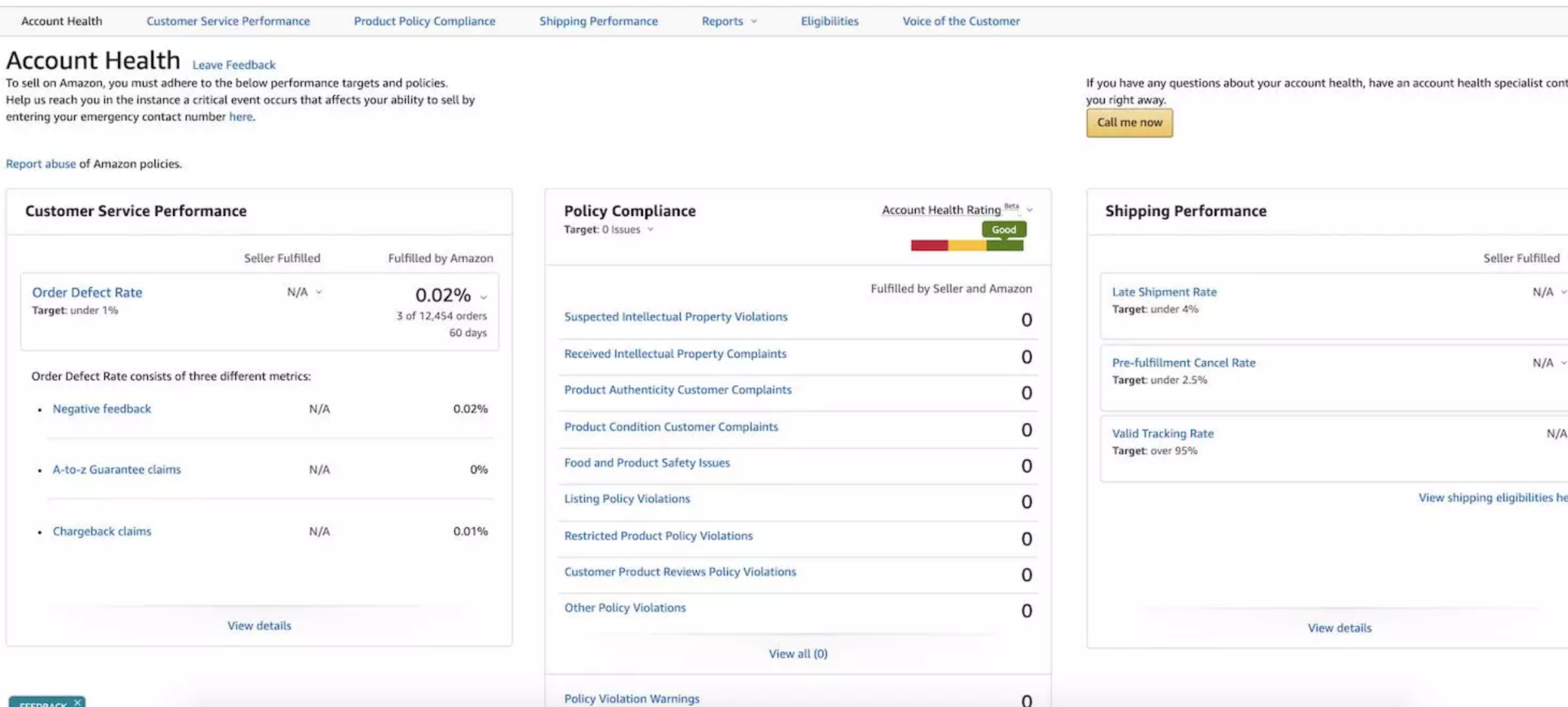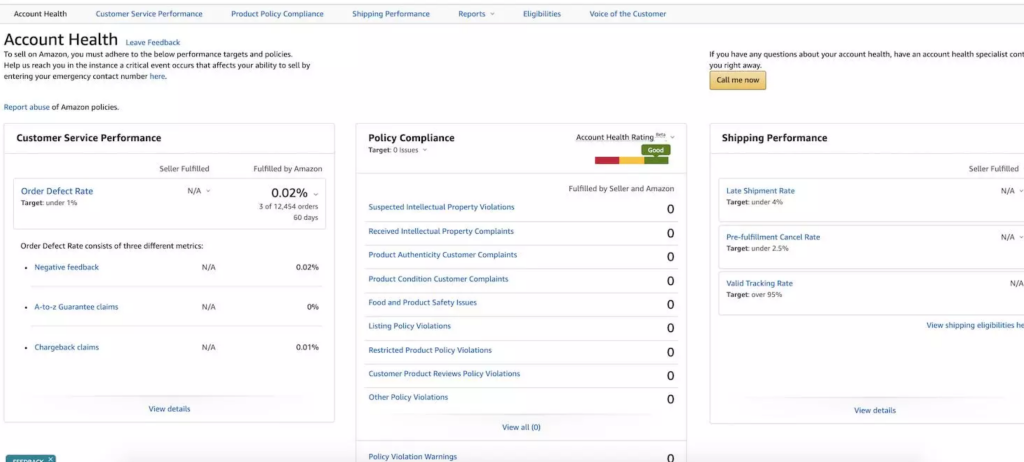 Probably the most important point to consider here is the Order Defect Rate. Amazon defines a defect as a product that received negative feedback, an A-to-Z claim or a credit card or chargeback.
Communicate with your customers and resolve issues swiftly. This is because Amazon requires sellers to maintain an Order Defect Rate of below 1 per cent. Anything above that and your account will be closed.
Voice of the Customer
You can find the Voice of the Customer page from the Account Health secondary dashboard. This metric is known as "CX Health" meaning customer experience, and it focuses on the accuracy and quality of listings.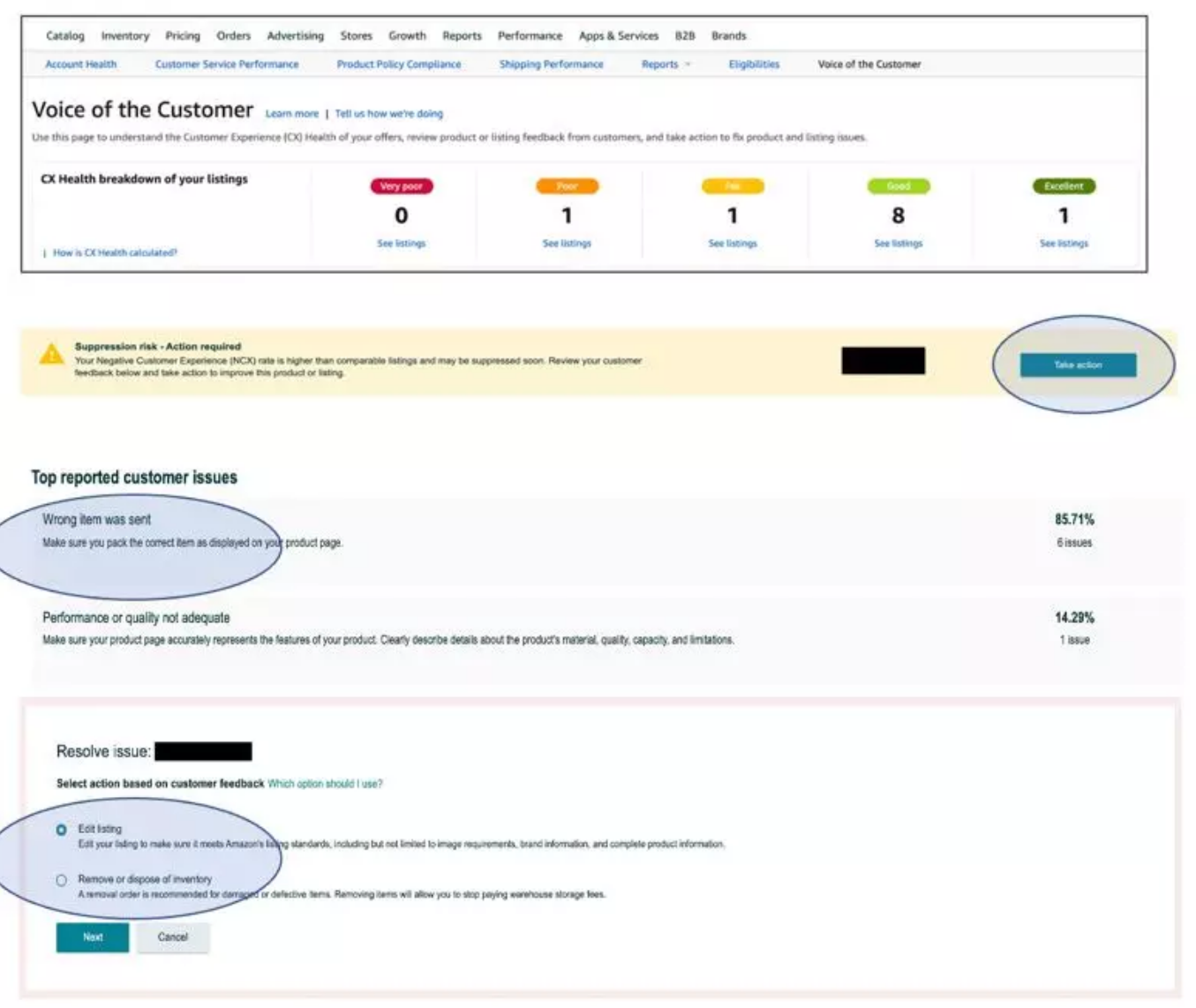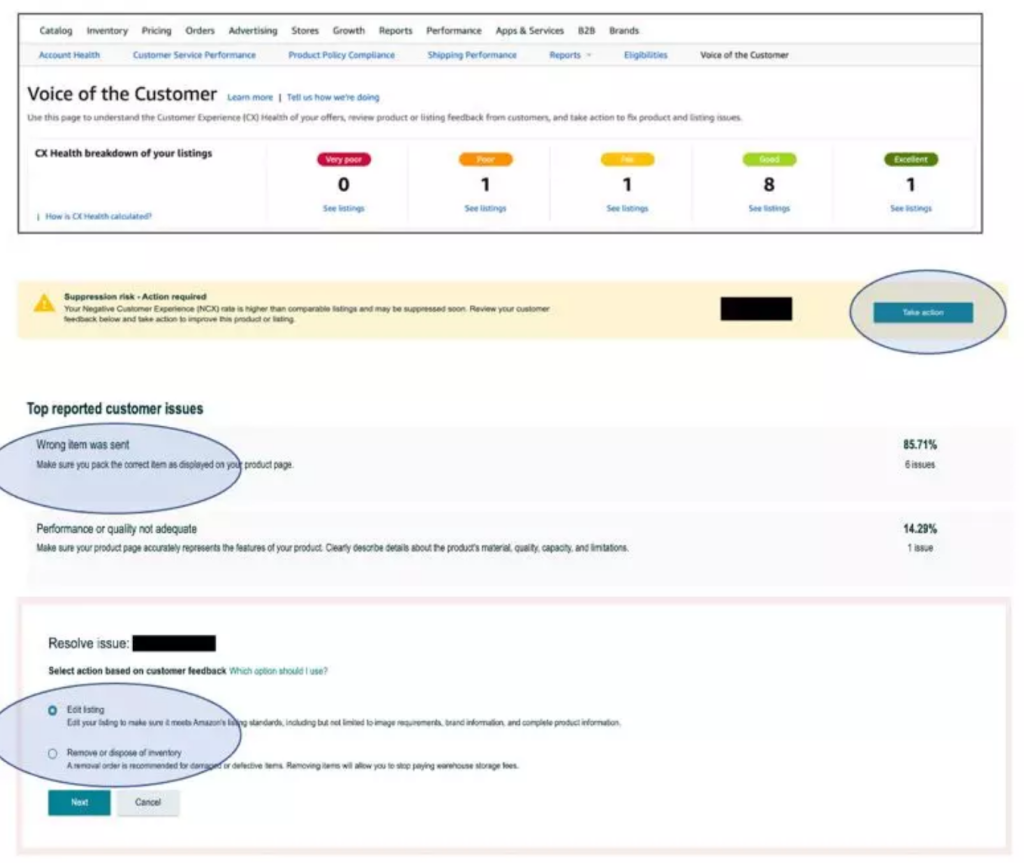 The Voice of the Customer page lists any customer's negative experiences (hopefully not many). If your CX rate is poor, Amazon will suppress the listing in a big way. Therefore, it's worth taking the time to sort out any issues by fixing the product page's information or replacing the inventory.
Find out more about improving your listings on this blog and dealing with negative feedback here.
Monitoring Brand Health – Final thoughts
Keeping a close eye on the three main metrics, plus Account Health and the Voice of the Customer will help to maintain your brand health.
Don't forget to monitor your prices regularly and respond to Amazon notifications quickly. Above all, make sure you meet Amazon's standards to keep your selling privileges.
As always, if you require any assistance with your Amazon account, our specialists can help you increase your Amazon ROI, increase sales, and improve every aspect of your account. Get in touch with the UK's leading Amazon agency.