Amazon Brand Story: the new feature for brands selling on Amazon
Amazon has recently introduced a new section within product listings called 'Brand Story'.
In this article, Optimizon Brand Content Specialist, Charlotte Boaler, explains what the new 'Brand Story' section is and why brands should make the most of it to give customers an even better shopping experience on Amazon.
In previous articles, we've spoken at great length about how Amazon is continuing to target brands. Similarly, we highly recommend that companies take control of their brands on Amazon. Not only to prevent third-party resellers from damaging your brand but so that shoppers get the same brand experience wherever they shop.
It's clear that Amazon, the largest online marketplace on the planet, wants brands to sell directly through the platform. There are several practical and commercial reasons for this. However, Amazon's focus always begins with customer experience. Customers typically get a better shopping experience when buying directly from brands that take more care and deliver a superior brand experience.
To increase the appeal for brands to sell directly through Amazon, the marketplace has recently introduced the new 'Brand Story' feature.
Amazon Brand Story
Amazon Brand Story is a new section on product listings that provides additional branding possibilities for vendors and sellers. The feature offers new and improved ways to tell a brand story.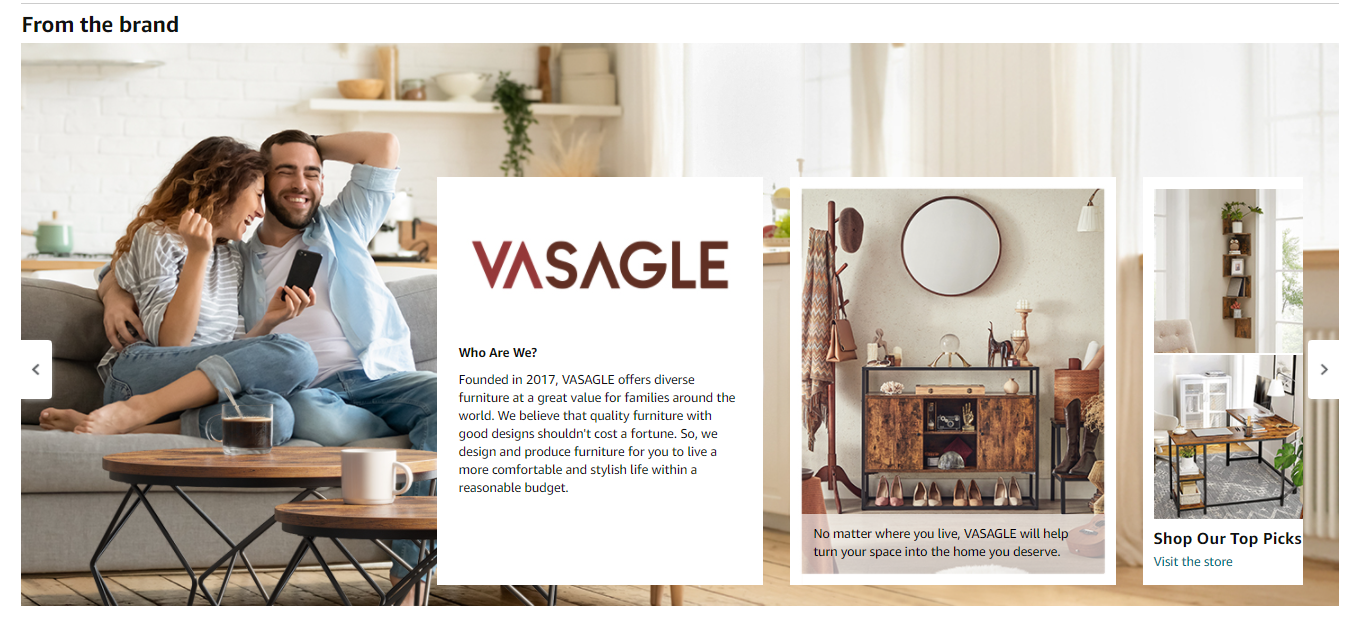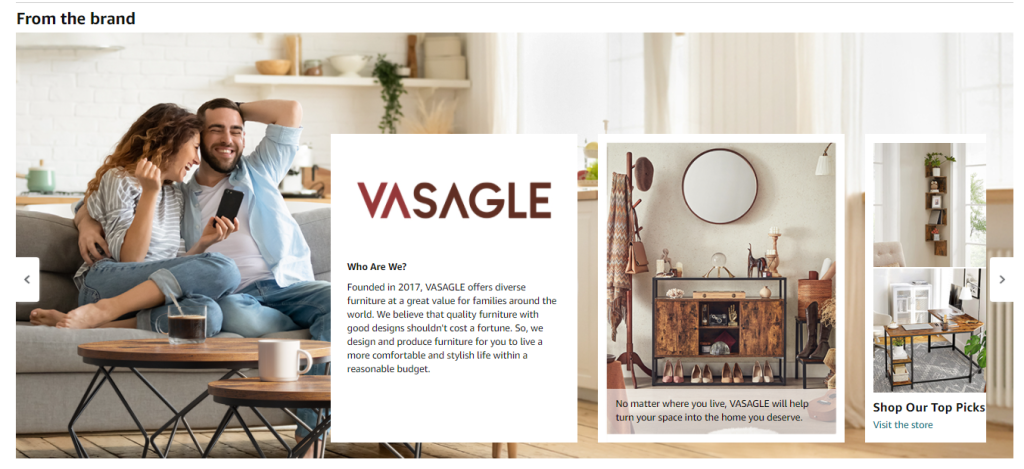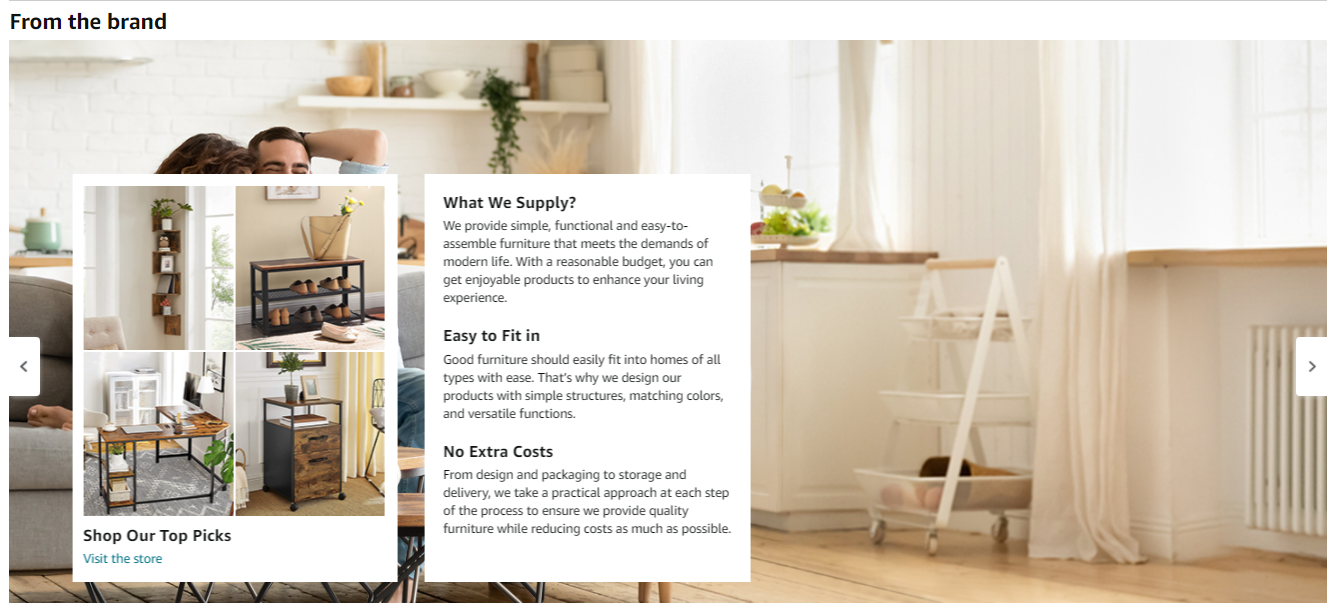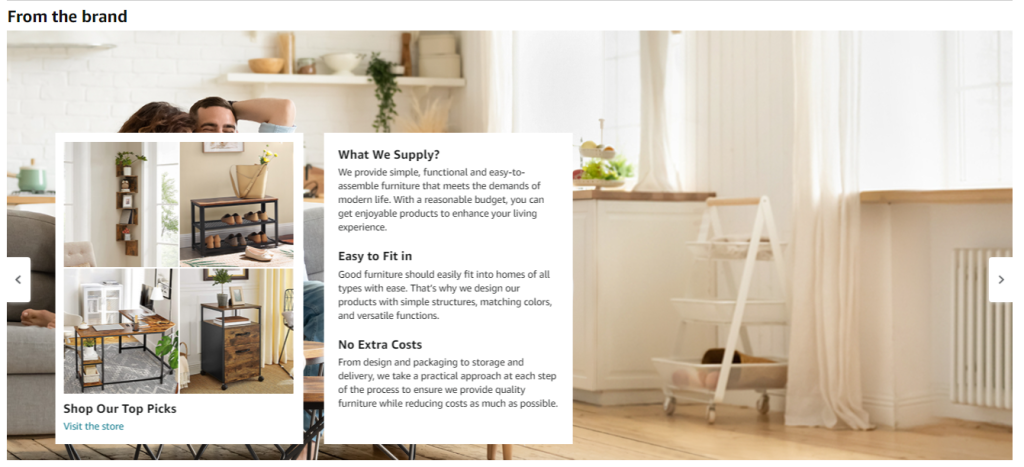 Why is this important? Simply put, brand stories engage shoppers and drive sales.
The new section is an add-on to A+ content, which traditionally focuses on the product and its features. The Brand Story can be used to highlight the brand message, values, mission, and other important branded products, across multiple products.
If set up properly, a good Brand Story can build a strong emotional connection with shoppers. This leading to increased sales and importantly, repeat purchases.
Amazon Brand Story was released in the US in 2020. However, it has been refined and released in the UK this month. For Brands selling on Amazon, it is definitely worth knowing about and taking action now.
Immersive Brand Experience
Although it feels like Amazon has been around forever, you don't need to think back far to recall how Amazon shopping has changed from simple listings with basic product information, to a more immersive shopping experience.
Branded content helps to further improve the customer experience, and helps brands build trust and recognition. As mentioned, Amazon realises the benefits of brands selling directly via the platform. Commercial benefits, coupled with the fact that shoppers tend to receive a better overall experience when purchasing directly from brands on Amazon (as opposed to buying through third-party resellers on the platform), has resulted in Amazon making it easier for brands to tell their stories.
The product information like A+ content and Storyboard images on product detail pages have transformed faceless Amazon listings.
Shoppers now make an emotional connection to the brands and products they are purchasing on Amazon. Some have seen the success of branding on Amazon, so some of the successful brands are exclusive to Amazon.
The Brand Story is a bolt-on to the product detail page where brands can set out their brand message.
Our creative team, led by Mel Henson, have been speaking out as an authority for years about how emotional connection is a powerful driver of purchase decisions online. In fact, Optimizon has been helping brands tell their stories on Amazon. Subsequently the Brand Story section has become another part of this toolset.
How do you add an Amazon Brand Story?
The Amazon Brand Story is included as an addition to A+ content. You can add the Brand Story within the A+ Content Manager. This is avialable on both Vendor and Seller Central where you will find the newly added modules.
The Brand Story is displayed below the main product information on the product page. It is located directly above the A+ content and displayed as an eye-catching carousel.
The Brand Story carousel contains various options that Brands can choose from. These options include different styles of 'brand card' modules.
The differing card options can be arranged to highlight the brand's story and values. What's more, they can highlight selected products and can link to the Brand Store (Amazon Storefront).
What should be included in the Amazon Brand Story
Firstly, your Brand Story should showcase your main brand message and what your brand stands for. Here you can build an emotional connection and trust with your customers. You can also highlight what you have to offer beyond the product benefits (that are set out in the A+ content area).
The overall carousel modules can include a hero or background image. This can be resized for both desktop & mobile. It sits behind various brand cards that can be arranged for shoppers to scroll through. We recommend keeping this consistent with your brand colours and imagery throughout the listing.


For best practice, the carousel cards should be ordered in a way that makes sense to the shopper when scrolling. Furthermore, they should be arranged to give the buyer confidence in the brand.
For example, brand trust in categories like 'baby' or 'pets' is proven to be a huge driver of purchases. The brand story here can highlight trust-building messages such as the age of the brand, commitment to care, safety, and quality, core technologies, community initiatives, environmental commitments, and even other products.
From the Brand Story cards available, we would recommend setting them out as follows:


About Brand Card
Image: Show the brand logo / introduce the brand.
Text box: Demonstrate longstanding brand presence, brand strengths, core technologies, consumer trust, community / environmental credentials.
Brand four ASIN's
ASIN: Here you can show 4 best-selling/related / most recognisable brand products.
These products appear with the image and small headline. You can display two ASIN brand cards in a row within the carousel.
Also, with the addition of a link to the Amazon Brand Store underneath.
Q&A Brand Card
In addition, you can present 3 bespoke or Amazon generated questions and give personalised answers to provide more brand information. Build off any queries asked a lot in customer reviews, can answer them here.
Summary
Optimizon has proven the effectiveness of careful brand positioning within Amazon listings. The Amazon Brand Story section adds a new tool to the available arsenal of improving your brand experience and increasing sales.
However, as with all of the Amazon creative pillars, to make the most of this feature, careful planning is required in order to enhance the listing, improve the customer experience, and maintain brand consistency.
Allowing Brands to focus on the product benefits within the A+ section, as well as setting out the brand message in the Brand Story section, is a fantastic addition. What makes sense from separating these two creative elements, is that whilst A+ content focuses on individual products, you can apply the Brand Story section to multiple products.
Finally, as always, if you need any assistance in optimising your branded listings, specialists at Optimizon are here to help. We'll help you increase sales and deliver a better customer experience. Reach out to our team today.