Amazon's Flywheel Effect. Not a hidden trick, but a formidable strategy, ready to skyrocket your sales. Curious?
Let's dissect Amazon's Flywheel together
Ever wondered what the secret formula is to Amazon's jaw-dropping success?
Well, the approach isn't a secret handshake. It's a tried and tested method that turned Amazon from a fledgeling online bookshop into the behemoth we know today.
The Optimizon Team know this business model like the back of our hands. It's the constant set of principles fundamental to our clients' success.
We know that getting caught in the Amazon Flywheel's momentum can make all the difference to your sales performance.
Just before we started to ramp up for this year's Prime Day preparations, we got our Heads of Department together to spill the beans on how to focus on the flywheel and become more successful on the platform itself.
In the beginning
As the story goes, Jeff Bezos scribbled a diagram of the Amazon flywheel (or 'virtuous cycle' as he called it) on to a napkin and it has since become the formula he fine-tuned, to drive Amazon to where it is today.
Prior to this, it actually featured as a growth strategy in Jim Collins' book from 2001, 'Good To Great'.
What is an actual flywheel though?
Imagine the spinning wheel – it starts slow, but once it's in motion, it's unstoppable.
That's the principle behind the Amazon Flywheel, a simple yet effective growth strategy that builds momentum, drawing in more customers and pushing sales ever higher.
As you feed any part of the loop, it accelerates the flywheel.
We can brainstorm new ways for you to deliver outstanding results on one of retail's biggest stages. Outperform your competitors this year by reaching out to us at [email protected].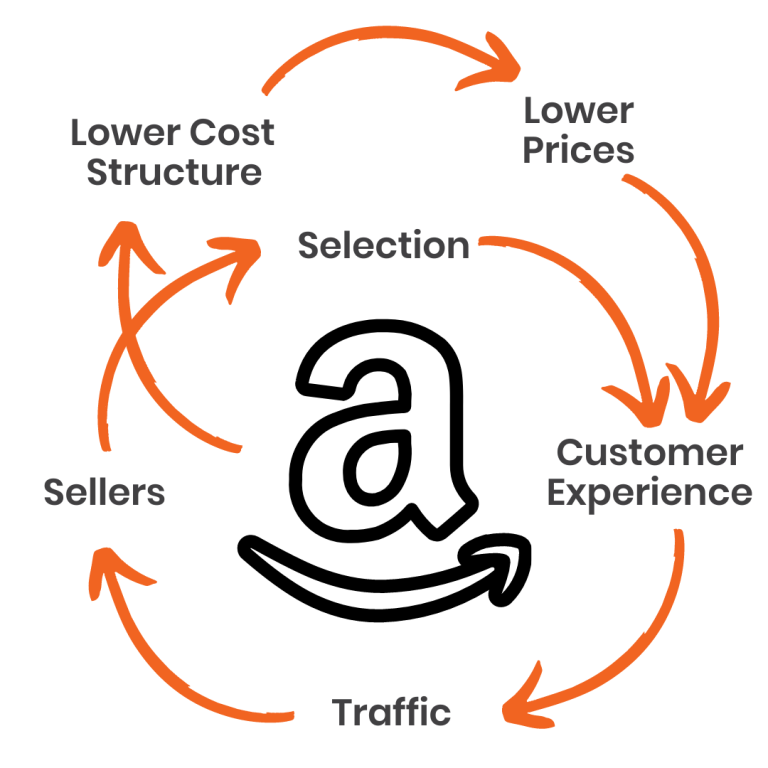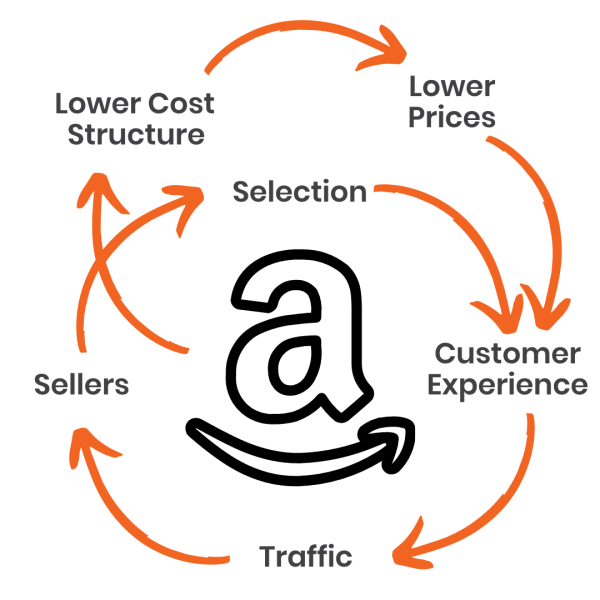 Customer Experience is King
The process begins with customers experience. Here's how it works.  
Deliver top-notch customer experience to attract more traffic
This higher traffic drives more retailers to your platform.
More retailers means more choice
The cycle of growth affords you the resources to invest in logistics and reliability.
 And we're back round again to customer experience – and the flywheel continues to spin round, ever reinforcing.
It's all linked (and you should be too)
Just like any machine, each cog plays a crucial role.
In the Amazon Flywheel, listing optimisation and compelling content are the shiny, appealing cogs visible to consumers.  Optimizon has driven double-digit sales uplifts, by our unique approach to content optimisation with best-practice SEO and ecommerce conversion principles.
When you have that content, ready to convert, we drive well-targeted traffic to it.  Our Paid Advertising Team have put new-to-Amazon brands on the No. 1 spot on Amazon within three month timeframes. These clients understood the important flywheel cog that is driving traffic to optimised listings.
There is another often-overlooked cog – inventory.
Keeping your product stocked and ready for delivery is paramount to keep this wheel spinning.  No amount of punchy product descriptions can gloss over the fact that consumers need their chosen product available when they want it.
This is why our Account Managers monitor their clients' Amazon IPI scores ruthlessly, especially for any seasonal peaks.  We recommend you do the same to save yourself costly fees and disappointed customers
The big takeaway:
Every aspect of content, every step of the process, every minor tweak, and every seemingly insignificant optimisation contributes to creating an outstanding customer experience.
And that's the secret sauce to a smoothly spinning flywheel, building momentum, and boosting sales.
But, remember, Rome wasn't built in a day and it wasn't built by one person. It requires time and a team effort to get the flywheel spinning.
To learn more about how the experts at Optimizon can apply the flywheel principles to your business, drop us a line at [email protected] and let's start a conversation