When it comes to Amazon, fast delivery speeds are a top priority for customers. However, many sellers tend to overlook the importance of delivery in their business strategies.
Here's a crucial statistic: 75% of shoppers desire same-day shipping, but only 50% of online retailers actually provide it.
In the UK, Amazon revolutionized the market by offering doorstep delivery within five days.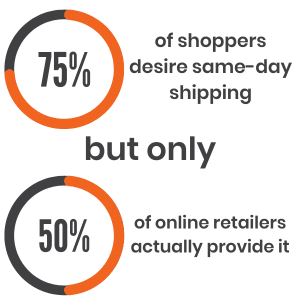 But times have changed, and what was once considered fast now seems slow. A survey shows that while 89% of consumers consider 2-day shipping fast, only 42% feel the same way about 3-4 day shipping. In fact, the demand for speed is so high that 41% of consumers are willing to pay extra for same-day delivery, and 24% would pay more for a two-hour delivery window of their choice.
As an Amazon seller, it is vital to focus on offering the best delivery options possible because Amazon has set a new standard for near-instant delivery. If you're a self-fulfilled Amazon seller (not using FBA), meeting these exceptional delivery benchmarks may pose a challenge. However, it is not impossible. Here are five tips to ensure your business provides outstanding delivery options.
Front and Back-End Optimization
Ideally, Amazon prefers sellers to use their fulfilment methods as it ensures consistent delivery. To maintain a healthy account and avoid potential suspension, Amazon has implemented strict performance metrics, particularly regarding delivery times.
While most sellers update delivery times on their front-end product pages, many are unaware of a crucial behind-the-scenes trick. Amazon sets the default handling time (the time it takes to dispatch an order) for all sellers at 1-2 business days. However, if you deal with heavy furniture or large goods, your shipping time might be closer to 1-2 weeks. Failing to adjust these parameters can result in overly optimistic delivery expectations on your product pages. So, ensure you customize the handling time in the background to set accurate customer expectations.
Find the Right Balance
Achieving a balance between meeting customer expectations and being realistic is essential. The farther the delivery date, the less appealing your product becomes to customers. Conversely, consistently missing shipment deadlines can result in penalties from Amazon.
The question arises: should you over deliver or under deliver? On Amazon, it's generally better to start conservatively and gradually improve as you gain better forecasts. While it may be tempting to follow the metrics of your ecommerce platform, remember that the Amazon process differs slightly, and immediate success isn't guaranteed. Focus on building traction with customers initially, and then enhance your delivery offerings to keep the sales wheel rolling.
If you have the capability to ship orders on the same day, seize the opportunity. Avoid playing it safe with a vague 1-5 day delivery estimate. Such a broad range may push potential customers toward faster competitors, even though you could deliver just as quickly, if not quicker.
Choose the Right Moments
You don't need to offer expedited delivery speeds 24/7 throughout the year. Instead, consider elevating your delivery game during naturally busy trading periods like Black Friday or Prime Day.
With more people shopping online during these periods, it's advisable to have extra stock and staff capacity in place. This makes offering quicker shipping services much more manageable. By anticipating these events, you can maximize sales. Keep in mind that as the delivery cutoff point approaches, Amazon will inform customers that a product "will not arrive in time for [specific event]." Consequently, you might experience a two-week period during which customers won't purchase your product if it's related to a specific occasion. So, be proactive and adjust your delivery times accordingly throughout the year to align with varying demand levels.
Keep an Eye on Stock Levels
Ensuring you have sufficient stock to support your delivery capabilities is crucial for success. Offering exceptional delivery speeds is futile if you don't have the product in stock.
Amazon is strict about order defect rates, which can occur if you ship an order late, cancel an order before shipping, or deliver orders on time but fail to meet the delivery deadline. Higher order defect rates increase the likelihood of an account suspension.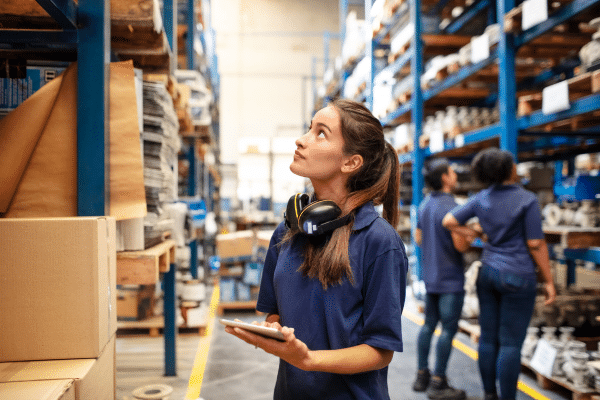 Therefore, it's vital to maintain adequate stock levels. Follow simple steps to organize your back-end processes and ensure a seamless inventory management system.
Choose the Right Courier
While there aren't many restrictions on which couriers you can use, selecting the right one can significantly impact your overall performance.
Consider the cost and profitability of the delivery service for your business. Also, evaluate reliability and the ability of the courier to deliver products on time. Amazon introduced valid tracking rates as a performance metric, requiring you to ship products with a valid tracking number. This discourages the use of untracked services and provides some protection. According to Amazon, tracked orders have 60% fewer order defects. Nonetheless, the choice is ultimately yours, so conduct thorough research before selecting a courier.
While Amazon recommends partners like Royal Mail or DPD, even using these does not guarantee exemption from penalties if an order fails to reach the customer on time. Therefore, it's crucial to assess your options carefully.
There are numerous ways to optimize your delivery performance on Amazon, and it should never be an afterthought. If you need assistance in identifying ways to improve your delivery offerings, don't hesitate to get in touch with us.
We're here to help you succeed in meeting customer expectations and maximizing your business potential on Amazon.