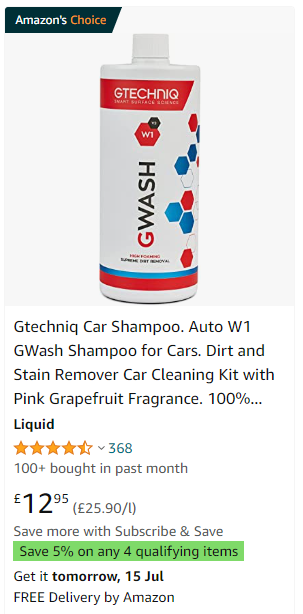 Gtechniq was founded in 2001 by Drew Gill, a quantum physicist who used the science of nano-chemistry to improve the protection of painted surfaces. The company delivers unparalleled solutions in surface care that surpass industry standards.
The Gtechniq team possess expertise, industry connections and cutting-edge scientific insights, which keeps them at the sharp end of innovation.
Amazon's resistance to increasing cost prices meant that Gtechniq decided to transition from the Vendor Central model to Seller Central. They wanted support for a smooth transition and no loss of sales over the transfer period. 
This kind of transfer is bread and butter activity for Optimizon. The team knew this shifting Amazon landscape had put many clients in the same position as Gtechniq and were well-prepared when they approached us to discuss adding this piece of work onto our successful full account management project.
We started with a careful review inventory, which gave the team a tailored strategy focused on maintaining the sales and profitability of the clients current Vendor account.
We spotted the opportunity to add value with a unique tracker that showed Gtechniq exactly how many weeks cover were left in vendor, so the flow of inventory was as smooth as possible.
A final element of the planning and delivery was a rebuild of Gtechniq's advertising from scratch on the new seller account. Seeing the need to drive visibility and sales with a robust advertising approach on the new account, we developed a specific strategy across Sponsored Products and Sponsored Brand advertising to adapt to the Seller Central account goals.
Gtechniq moved to a strong position with greater control over pricing and cost management with the transfer to Seller Central. Optimizon's attention to detail meant the transition worked to time and without unforeseen issues.
Gtechniq was delighted with their biggest month of sales ever on Amazon in May with reports showing the re-constructed advertising strategy gaining traction with their target audience and propelling business growth.
Stuart Taylor, Head of Business Development, said, "We have had a long term, successful relationship with Optimizon and relied on their knowledge and expertise to allow us to confidently transition from a vendor to seller model seamlessly. They managed the process very efficiently with no impact on sales or customer experience. Well done!"