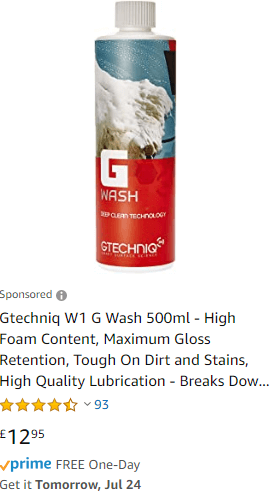 Gtechniq makes unique, high performance protection and maintenance products for cars, boats and planes. Founded by a quantum physicist in 2001, the products use innovative nano technology to give an outstanding, long lasting shine and finish in a way traditional products cannot match.
When Optimizon started working with Gtechniq, the listings did not reflect the high-quality performance of the brand. Sales were not reaching their potential, and the brand was hard to find on Amazon.
Listings were optimised with copy that explained the strong functional benefits of the products and contained keywords to draw in automotive owners and boating enthusiasts. A storefront was created, and a sponsored ad campaign launched to drive traffic
Over the first three months of introducing the storefront, sales on the storefront tripled and remained high even during the lockdown. Sponsored ads drove traffic to the storefront, which in turn provided additional halo sales for the brand. Since introducing sponsored brand ads, sales within the storefront grew 50% every month. Of these, 44.6% were "new to brand," growing the overall customer base for Gtechniq.
Gtechniq benefits from bespoke support from a dedicated Account Manager, Operations Manager and Advertising Manager – who have direct contacts within Amazon. An integrated management approach has seen sales increase as well as customer satisfaction. Optimizon is now about to start managing Gtechniq's sales on eBay as well.
Stuart Taylor, Head of Business Development, said, "The best thing for me about Optimizon is that they have taken away all of the day-to-day management of Amazon, sorted it all out, and grown the sales. They have taken what was a difficult and time-consuming sales channel for us and turned it into an effective and substantial account."