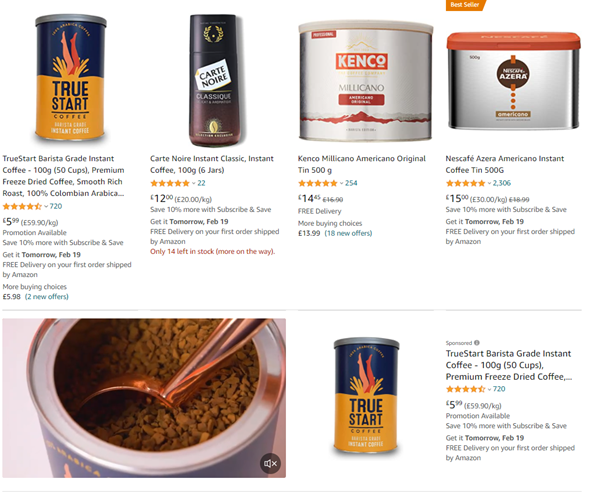 Truestart is a high-growth coffee brand in the fitness industry with a mission to "make people feel wild for life without compromising on ethics, people or the planet.
The Rainforest-Alliance Certified company approached Optimizon to manage all the paid advertising and get to no. 1 on Amazon to boost the argument for going into grocery stores. As this is a highly competitive marketplace, ads needed to achieve an ACOS of 38% or less in order to gain market share.
Firstly, Optimizon set up automatic campaigns to acquire data and learnings around keywords and product page conversion and identified high-converting keywords and ASINs to target. These were split out into their own campaigns to ensure more control of what the budget was being spent on and minimise wastage. On the creative side, all variations were put together in one listing to increase conversion rate, amalgamate reviews, and improve consumer choice to aid cross-sells. We are now developing a plan to increase awareness through DSP targeting and re-targeting, boosting organic sales, and looking at underpinning an EU launch with an advertising boost
Truestart secured the no. 1 position for Sponsored Products for the highly competitive search term "Instant Coffee" and was also top of search for Sponsored Brands and ranking no. 1 organically for the same search term. We are also winning the ad position for the Sponsored Brands video and well on the way to beat the targets set.
"Optimizon are doing a cracking job. I achieved what I wanted, which was to be able to hand over everything to do with Paid Advertising to them, and I've been able to focus on the rest of the business. We're now talking about how Optimizon support me on the next phase of Amazon growth," said Simon Hill, Co-Founder and Owner of TrueStart Coffee.