PAY PER CLICK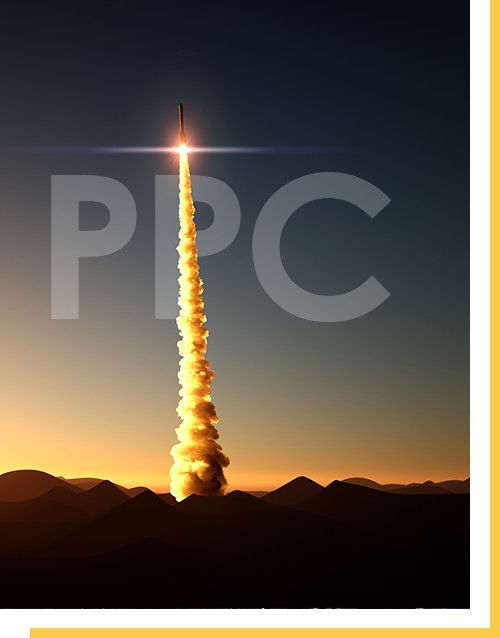 INSTANT VISIBILITY
PAY PER CLICK
PPC is a highly cost-effective method of advertising on both search engines and websites. You only ever pay when a user clicks on your ad, and you control how much you pay for each click. You decide how much budget to allocate per day, week or month.
There are many PPC platforms available, but the most popular is Google Ads. Adwords is segmented into: search, display, remarketing, and YouTube.
Search refers to sponsored results that appear at the top of the Google listings when you run a search query. Display refers to textual or graphical advertisements placed on 3rd party webpages. Remarketing allows you to target your advertising to people that have visited your site already, allowing you to convert window shoppers into customers. There are also various forms of advertising available through YouTube such as In-Stream and In-Display.
01
PAID SEARCH ADVERTISING
PAID SEARCH ADVERTISING Paid search advertising delivers top page visibility instantly. As soon as you have decided a budget, keywords to advertise on and landing pages to use then you can go live immediately.
02
PPC AUDITS
A PPC account is a complex setup with so many different factors that can be altered to cut down wasted spend, increase CTR's, improve quality score and in turn deliver better results for your business.
03
BING/YAHOO PPC
Bing has its own paid search platform, which tends to be ignored by a lot of advertisers due to its market share among search engines, yet it delivers a fantastic ROI.
04
DISPLAY ADS
Display advertising plays a crucial role in digital marketing, both for direct response campaigns and brand awareness campaigns. Display, often known as banner advertising, can be a relatively cheap method of exposing your brand to large numbers of potentially relevant audiences.
05
REMARKETING ADS
Remarketing is a great way to gain business that might previously have been lost. Remarketing allows advertisers to target previous visitors to their website through other websites or platforms. Passion Digital manages the two main types of remarketing through Google AdWords and Facebook.
06
GOOGLE SHOPPING
Google Shopping is a very powerful advertising platform for e-commerce websites, and provides an excellent ROI for many of our clients. Getting started on Google Shopping can look a bit daunting, but we can take that weight off your shoulders by setting up your merchant center.
SEE WHAT OUR CLIENTS SAY
TESTIMONIALS
asas
" The new optimised listings quickly ranked on the first page of Amazon search result. In the first complete month from the start of the project, sales were double that of the entire previous 6-month period. "
" We were delighted to see that the first batch of optimized copy improved response by 300%."
" Once Optimizon had optimized content and improved the brand presentation, products started to rank higher for our resellers who also saw higher conversions."
Hawke Optics
Marketing Director
LOOKING FOR A DIGITAL PARTNER?
LET`S CHAT