Amazon Keywords & why getting to know your Customer is so important for selling success on Amazon
National Get To Know Your Customer Day
Today is 'National Get To Know Your Customer Day' – and to celebrate we're taking a look at how you can identify your customers' needs in order to target them more effectively on Amazon.
Creating a Customer Avatar
First, if you don't already have one, we recommend creating a 'Customer Avatar' i.e. a detailed profile of your ideal customer.
This avatar will focus on one person and outline everything about them. How old are they? How much do they earn? What are their hobbies? It goes into much greater depth than a regular marketing persona, providing sellers with many more targeting tools. Note that we say 'ideal customer' rather than 'average buyer'. Your avatar is someone that you really want to sell to; they're repeat buyers, high spending, loyal and will sing your brand's praises from the roof tops.
If you already have customers like this then, Fantastic! Then all you need to do is use these customers to build the foundations of your avatar.
Now that you have outlined who you are targeting, it's time to find out how your avatar is using Amazon.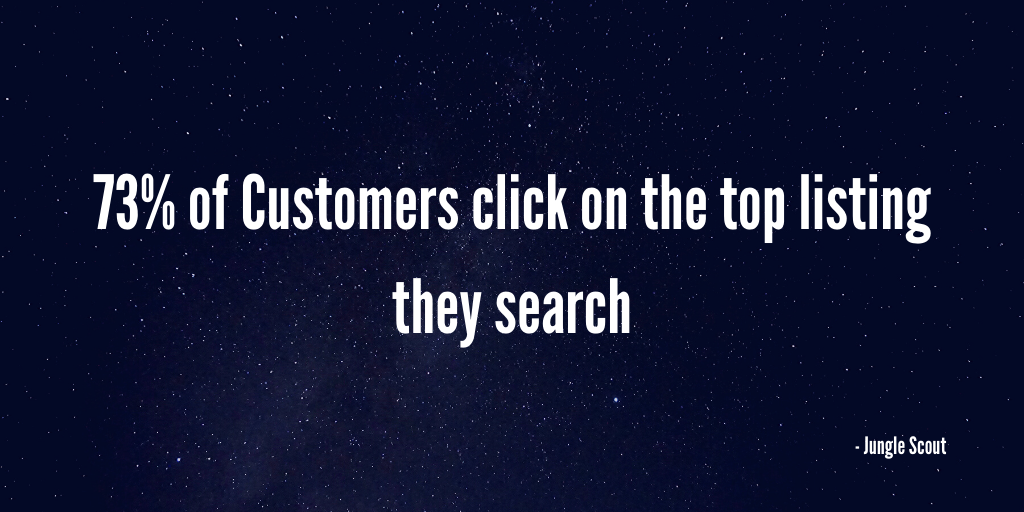 Amazon Keyword Research
The majority of Amazon customers will use the 'Search' function to discover new products. Occasionally, some will find products through a lightning deal or a Prime Day special, but search still dominates.
Customers will use descriptive words and phrases to find the type of product they are looking for. These are known as Amazon Keywords. Amazon will then display a list of results from the most relevant to least.
When you first launch a product on the platform, Amazon keyword research should be your top priority. When Amazon's algorithm determines that your keyword is relevant for a particular product search, it places your product higher in the search results.
This placement on the search results page is known as your ranking. This is important as not only will you get more free traffic from Amazon to your listing, but you're also more likely to convert 'clicks' from your paid advertising campaigns into sales. The more relevant your listings are, the more likely a customer is going to pick your product over competitors'.
According to research carried out by Jungle Scout – 73% of customers click on the top listing they search, 14% click the second listing, and 5% click the third listing. That's already 92% of the clicks on the search pages used up. This is why it's so important to have your product ranking as close to the first position as possible.
Finding the most effective Amazon Search Terms
One way is to use an Amazon Keyword Tool which will suggest a list of related Amazon keywords, allowing you to choose which you think are relevant to your product and brand. Amazon keywords differ from regular keywords as Amazon shoppers are much more specific when searching for a product. So those keywords that work for your website, may not actually work for you on Amazon. This is why it's important to use Amazon specific Keyword Search Tools.

When a customer starts typing keywords into the search bar, the 'suggest' function starts to generate phrases that the Amazon Algorithm thinks are relevant.
For example, if you type the word 'coffee' into the Amazon search bar, the Suggest function then comes up with commonly searched Amazon keywords relating to 'coffee'. The customer can then click the keyword they are looking for, even before they've finished typing it out.
The Amazon keyword tool then builds a database of these Amazon search suggested keywords. You can then use these keywords for your listing copy, title, bullet points, and so on. This can essentially tell Amazon's algorithm that your product is relevant to those keywords and you want to be displayed in search results.
Reverse Asin Search
Another method is to carry out a Reverse ASIN Search on a successful competitor's product. This will then reveal the keywords that this reverse ASIN is currently ranking for, therefore giving you a great idea of what Amazon keywords you should also start ranking for as well, based off your competitor's success.
By knowing your Customer Avatar and how your targeted shoppers search on Amazon, you can plan your listing copy and advertising to ensure your product stands out from the crowd, and be better optimised to be the highest ranking listing.
We can help!
Do you need help writing the best listing copy and advertising campaigns? Then get in touch and one of our Amazon Selling Consultants will be happy to help.
Getting in touch is easy! Just email us on chat@optimizon.co.uk or telephone 01793 975 219
Getting in touch is easy! Click the button below to request a call back from one of our Amazon Optimisation Consultants