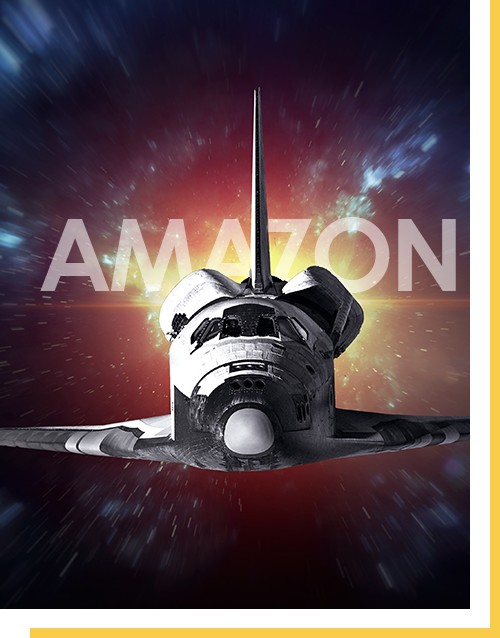 AMAZON LISTING OPTIMISATION SERVICES IN THE UK
AMAZON SEARCH OPTIMISATION
Google SEO isn't the only place you need to focus on for high rankings and high traffic. When you sell on Amazon, Amazon SEO optimisation is as important to catch the attention of your target audience. You need to give priority to Amazon search optimisation so that your listings get displayed on the results page of Amazon's search engine.
Failure or glitches in your Amazon listing optimisation will directly affect traffic, which will in turn affect your sales. Amazon SEO optimisation should be strategized based on the fact that unlike Google and other search engines where users may just be browsing, Amazon is a buying platform. Hence, users have the intent to purchase.
Amazon Search Optimisation – The algorithm
Your Amazon product page optimisation needs to revolve around these to become more visible to your target customers and for chances of conversion into higher sales –
Relevance of products
Performance of products
Relevance Related Factors for Amazon Listing Optimisation
Ensure you put the most relevant and specific keywords to maximize Amazon search optimisation. Include these in your product titles– brand name, essential ingredient or feature, clear description, colour, size (as accurate as possible), quantity (if its applicable). However, do not stuff keywords as it could impact click-through rates negatively because the title would look like spam.
If possible, include main keywords about your products in your seller name. From Amazon listing optimisation perspective, this will help to rank higher in search results. For example, when a user searches for women's shirts, a brand name that has women in the name have higher chances of getting displayed within the first few results as compared to one that doesn't have the word 'women' in the seller name.
For effective Amazon product page optimisation, you need to pay attention to backend keywords that are input in the backend part of Amazon Seller Account. These convey to the Amazon's algorithm which specific keyword on Amazon each listing is targeted at. Each description is limited to 50 words; hence avoid these – word repetitions, same word variations, quotation marks, commas, spelling variations.
Do not make mistakes in spelling out your brand name. Brand field is displayed on top of product pages and are linked to search results for other products of the brand.
Use crisp and simple words to describe your products for Amazon listing optimisation. Include keywords and use bullet points for clarity in listing out features.
Performance Related Factors for Amazon Search Optimisation
Do not price too high when compared to similar products on Amazon. If you charge too high, Amazon's search engine will consider that your product won't sell much and rank you lower in search results. Without Amazon search optimisation, your products may sell much lesser.
For Amazon SEO optimisation, you need to monitor conversion rates of products through Seller Central dashboard. Look at the units purchased per visit and tweak listings if there is lack of traffic or conversion into sales.
High quality images attract more buyers. For Amazon listing optimisation, adhere to Amazon's guidelines for using images.
More reviews enable Amazon product page optimisation – they lead to higher click-through rates, which can in turn translate into higher sales.
Amazon SEO Optimisation – How can you do it?
You can either have your in-house team work on Amazon search optimisation for your product page. Or you can sign up with Amazon SEO consultant, OptimiZon while you focus on products and their quality
Our other Amazon listing optimisation services include
01
Advice on all aspects of Amazon to help you avoid many of the common mistakes and missed opportunities that you would discover the hard way. With over 12 years experience our Amazon consultants we've "been there, done that" and yes, in the early days we made a few mistakes which you will benefit from!
02
Creating a listing on Amazon is easy – getting it right is not (unless you know how). A great product listing is one of the keys (or THE key) to successful positioning on Amazon and with over twenty aspects to get right – doing just one wrong will be the difference between pages 1 or 2 and page 30 plus.
03
Optimise your listing not just for Amazon, but also Google and other Search Engines to ensure you benefit from constant sources of free, organic traffic. Remember; we're looking for a page 1 or page 2 listing for your products to achieve more visibility and more sales.
04
Using both Amazon and our proprietary tools, we make sure we thoroughly research and select all the best keywords and search phrases Amazon buyers are using to find your product. There is a lot of competition for keywords and some may not necessarily be the most obvious and so thorough, detailed, research is key.
05
ACCOUNT SET UP & MANAGEMENT
Optimizon Amazon consultants offer a full service from initial account creation and ongoing management including full reporting on all activities. We can handle your complete Amazon selling activities which allows you to concentrate on your other sales channels
06
LOGISTICS AND FULFILMENT
Whether you intend to go with FBA (Fulfilment By Amazon) or not – we can assist and advise on logistics and fulfilment as well as analysing sales trends over time and forecasting future product demand (essential if clients are using FBA)
07
PRODUCT REVIEWS
An essential part of the puzzle which many clients just let happen (or not). We proactively drive feedback via customer reviews and know just what's needed to leverage that part of the Amazon Algorithm to assist in higher product rankings
08
CUSTOMER SERVICE AND RETURNS
Unfortunately, every product brings a level of returns; it's the way these are dealt with that makes an organisation stand out. OptimiZon can handle customer service enquiries as well as product returns; to your standards and policies of course.
09
As with Google and other search engines, Amazon provides a paid advertising facility to gain ground on the competition (especially at product launch) assisting in higher initial rankings. Over time there will be scope to reduce this as products gain popularity and push higher in the rankings.
SEE WHAT OUR CLIENTS SAY
TESTIMONIALS
asas
" The new optimised listings quickly ranked on the first page of Amazon search result. In the first complete month from the start of the project, sales were double that of the entire previous 6-month period. "
" We were delighted to see that the first batch of optimised copy improved response by 300%."
" Once Optimizon had optimised content and improved the brand presentation, products started to rank higher for our resellers who also saw higher conversions."
Hawke Optics
Marketing Director
LOOKING FOR A DIGITAL PARTNER?
LET`S CHAT
Getting in touch is easy! To avail our Amazon listing optimisation services, click the button below to request a call back from one of our Amazon SEO consultants.